Rail Platform Extensions, Driver Walkways & More
Rail Platform Extensions, Driver Walkways & More
From healthcare to manufacturing, Ezi Klamp counts almost every UK industry amongst our clients. But over the past 15 years, we've been particularly proud to play our part in keeping Britain on the move, designing, supplying and installing bespoke structures and access solutions for the UK's rail infrastructure and Network Rail – all custom-made from our revolutionary glass reinforced plastic (GRP).
At Ezi Klamp, we supply every GRP access solution required by the transport industry, from sturdy GRP handrail to rugged GRP grating. And if it doesn't exist yet, we'll dig into our inventory and design it from scratch. As Simon Botterill, our Technical Sales Manager, explains: "We've seen an increased demand for all our custom-designed track-side solutions in recent years. As well as platform extensions, GRP is popular for embankment steps, driver walkways, pop ups and signal maintenance platforms."
Here are a few places you'll see our GRP handrail and other products making the rail industry safer and more efficient, for travellers and staff.
GRP Driver Walkways
Train drivers need to be able to move smoothly and safely around the track-side, and GRP is fast becoming the industry's favourite choice. When you choose a GRP handrail over steel, you get countless benefits, from the simple installation to superior grip and weather resistance. Those non-conductive qualities are once again invaluable in the context of a track-side, while the fact that GRP handrail is also corrosion-proof and chemical-resistant means you'll see it everywhere from sewage works to manufacturing plants.
GRP Platform Extensions
With stations across the UK needing longer platforms to cater for increased demand, Ezi Klamp has regularly been commissioned to design and install custom extensions. GRP is ideal for the job. This revolutionary material has a high strength-to-weight ratio that makes it easy to handle and install. Unlike steel, GRP is also non-conductive and non-sparking, so it adheres to stringent electrification safety requirements and can be used within three metres of a live track without risk.
GRP Access Platforms
Need a made-to-measure access platform in a tricky location? No problem with Ezi Klamp's choice of GRP handrail and access solutions, all supplied from our Bristol factory. We're ready to design, source and install bespoke solutions, whether that means combining GRP handrail with GRP grating for a one-off structure, or adding GRP fencing or gates for added security.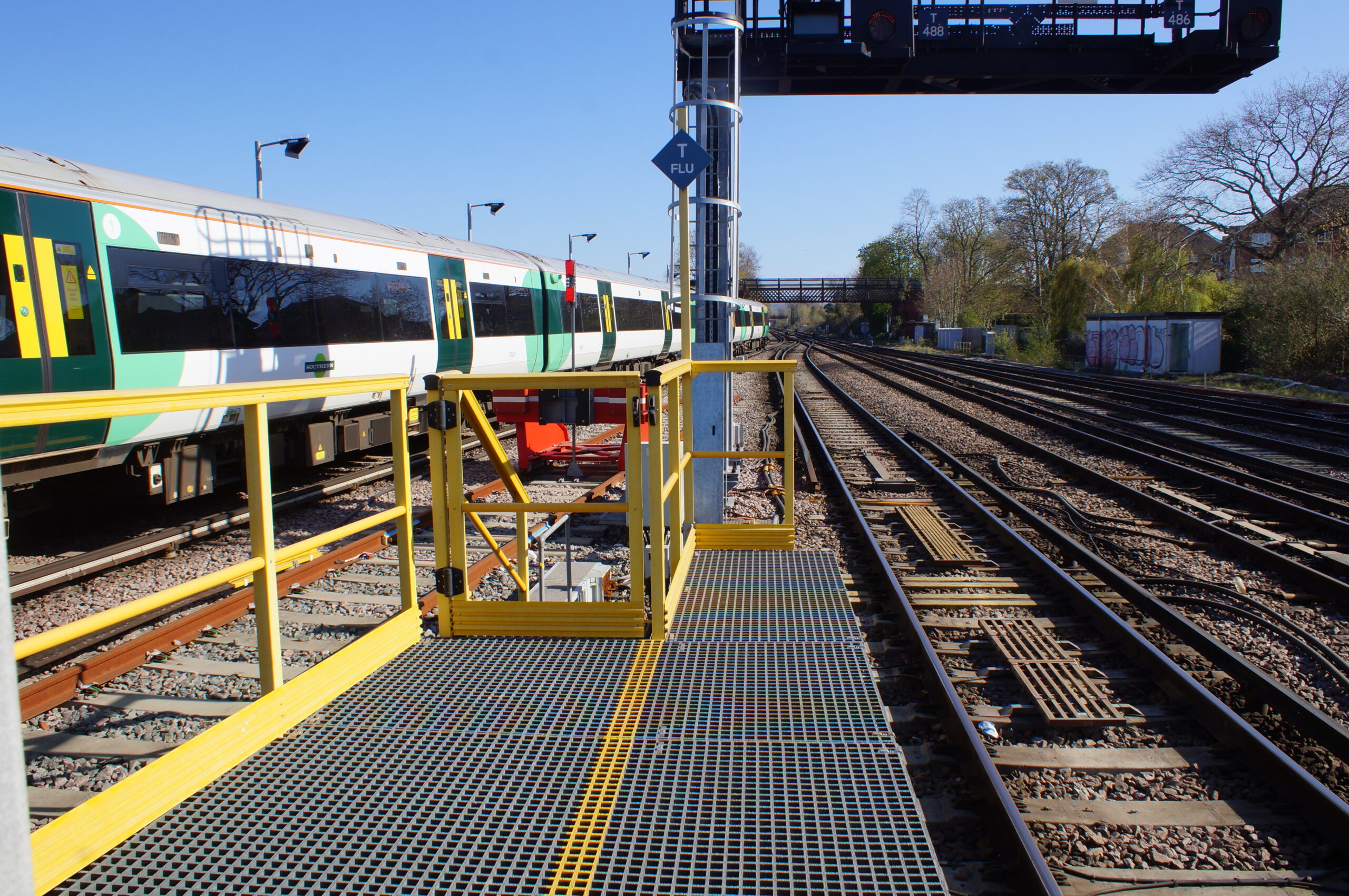 GRP Maintenance Hop-Ups
Even for fast and infrequent track-side maintenance jobs, it's vital to put safety first. Regulations state that any structure within three metres of a rail track cannot be made from a conductive material – which rules out steel (unless it's earth bonded). That's why Ezi Klamp has seen a boom in demand for our GRP handrail, grating and other products, all of which can be installed as standard and trusted for use in this high-voltage environment.
GRP Embankment Stairs
In the past, features like embankment steps and switch platforms were constructed from concrete, but as these outdated structures start to crack and crumble, GRP has stepped in as a modern solution. As well as the non-conductive benefits, GRP offers corrosion resistance, low maintenance and an unbeatable lifespan, so even faced with heavy usage and weather conditions, it will remain fit for purpose.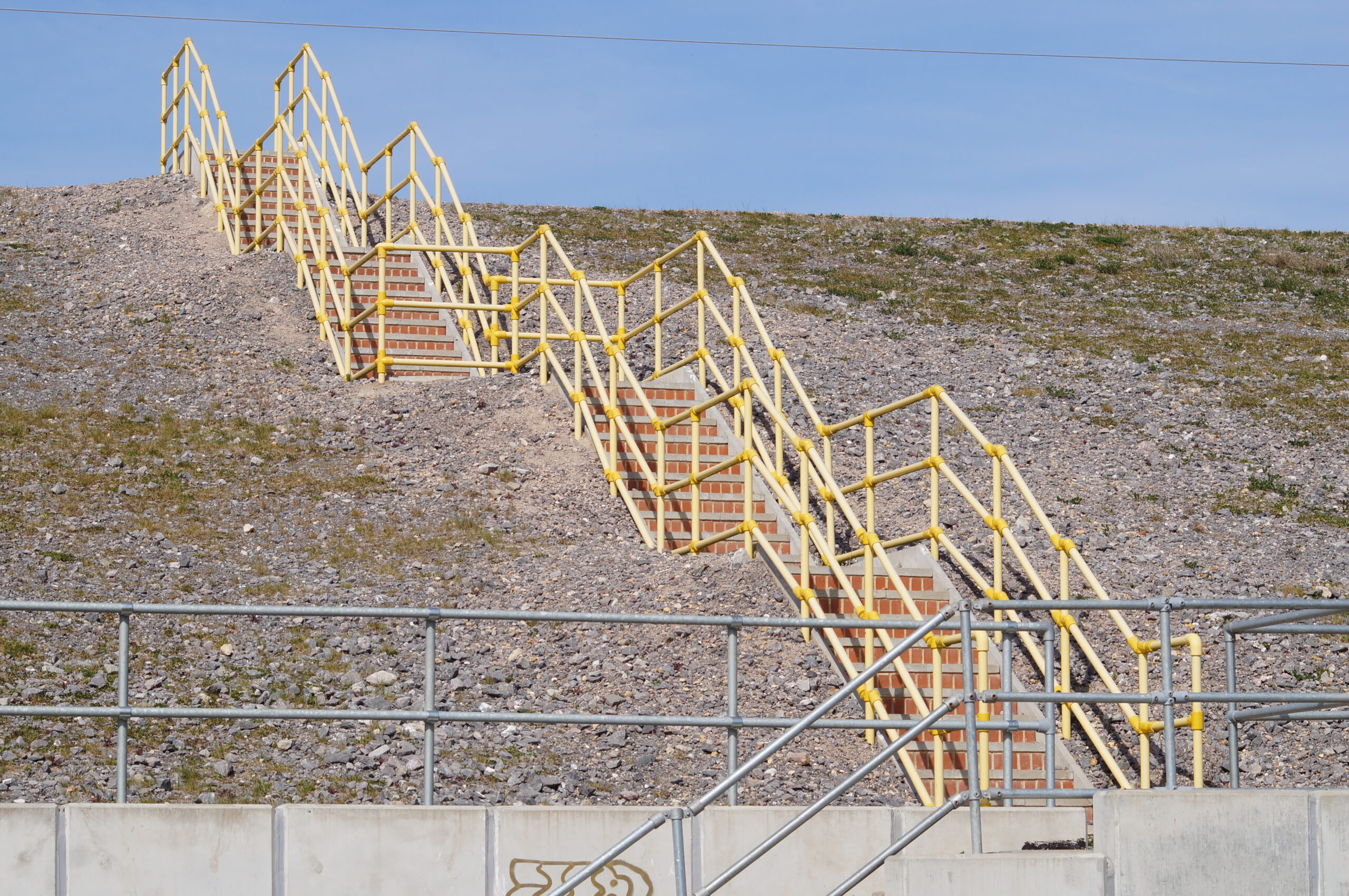 GRP Handrail and more, ready to order or created bespoke for you
At Ezi Klamp's dedicated Bristol factory, we have instant access to GRP handrail, GRP grating and other GRP products. But what you might not realise is that if you require a solution that isn't in our standard product range, our experts can apply their experience to create bespoke structures, just for you.
"The bespoke structures have become really popular," explains Simon. "People are pleased to find out that the systems we design can often be reconfigured or added to. For example, to extend a platform, add steps – or whatever the requirement is…"
From GRP handrailing to bespoke structures, Ezi Klamp has the solution for you. Get in touch on 0117 970 2420 or sales@eziklampsystems.com and see what we can do for your business. 
Related Product Categories
First Published:
14/06/2021
(Updated

24/04/2023

)