If you've never considered using key clamps – 2019 is the time to do it. Not only can they be used to form almost any configuration, but they'll also keep your costs down and save valuable time on site. Here is our guide to everything you need to know about key clamps and the countless benefits they could bring to your next project.
What are key clamps?
Key clamps are fittings used to create a connection between steel tubes, securely joining them in almost any configuration. With a diverse range of connections available, you can create secure steel structures without the need for welding as all you need for installation is an Allen key or ratchet. At Ezi Klamp, our key clamp fittings are constructed of corrosion resistant galvanised steel and are manufactured in accordance with BS EN 1562 and BS EN 1563.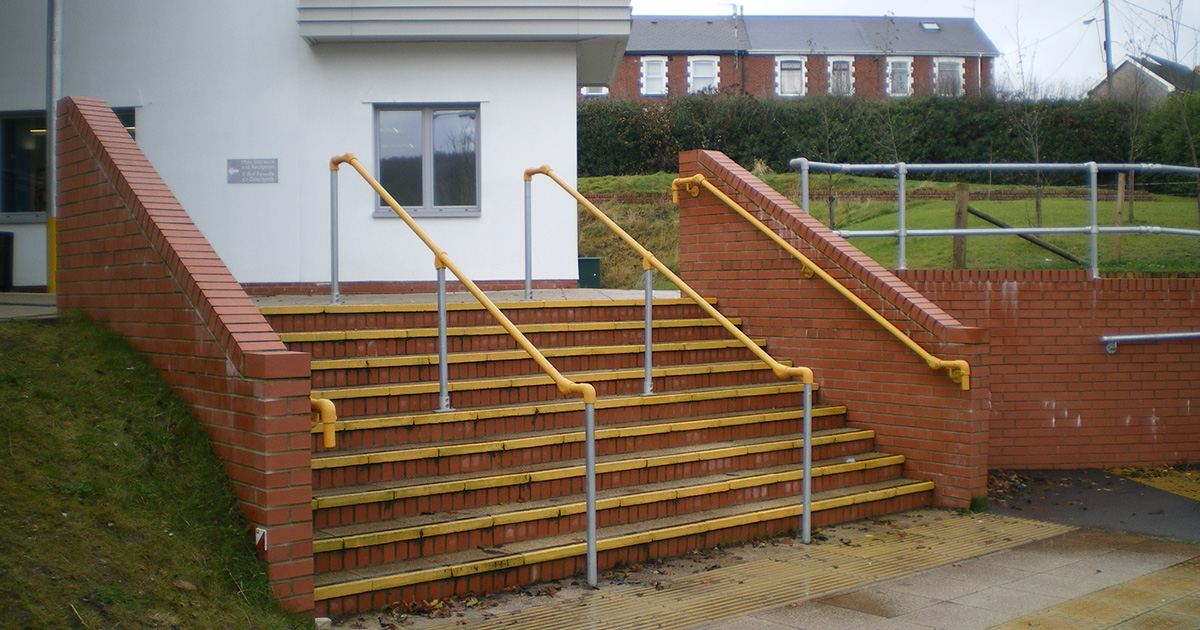 What are the different types of key clamps?
The Ezi Klamp key clamps range is comprised of over 60 different key clamp types, as well as standard tube lengths in a choice of five diameters. We can also cut the tube to length to suit your requirements.
Key Clamp Tube Sizes
Length:
Standard: 3m or 6m (or can be cut to size)
Diameter:
26.9mm, 33.7mm, 42.4mm, 48.3mm or 60.3mm
Key Clamp Types
The key clamp fittings include fittings to connect two or more tubes together in a multitude of configurations, these can range from Tees, Corners, Elbows and Crosses to Combination Sockets for connecting four tubes in one location. Wall Flanges and Wall Brackets are used to fit your structure to the wall, and Base Plates and Ground Sockets allow you to secure the structure to the ground.
Others include key clamp Gate Eyes and Gate Pins for incorporating a gate and Incline Swivels for structures positioned on slopes. And this is only a small selection of the key clamp types available at Ezi Klamp!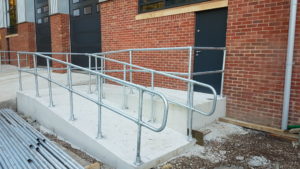 Who uses key clamps?
As key clamps are so versatile, the list of industries they are useful for really is endless. However, they are extremely popular in the infrastructure industry, particularly for railworks where long-lasting and durable handrails and guardrails are a necessity, and for public building entrances and exits where handrails are a key safety requirement. Key clamp handrails and shelters are also a common requirement for health facilities and educational facilities. Any application where a steel handrail is required and a desire to keep installation times and on-site costs down, key clamps are truly an invaluable asset.
The exhibition and retail industries have discovered the creative possibilities that key clamps present outside of handrail construction. Keep reading to see the commercial uses for key clamps!
Where are key clamps used?
Key clamps can be used to form a simple, cost-effective tube handrail system which is easy to assemble, as well as a plethora of other tube-based structures including carports, car shelters and support structures. The commercial uses for key clamps include display stands, trade stalls, garment rails, signage furniture and storage racking, to name a few. Key clamp tube and fittings provide a durable, adaptable and portable solution suitable for commercial environments. Whether your application is indoors or outdoors – it doesn't matter. Key clamps are designed to withstand continuous use in all conditions.
Key Clamp Uses
Handrails
Carports & shelters
Display Stands
Exhibition stands & traders stalls
Garment rails
Signage
Storage racking
Support structures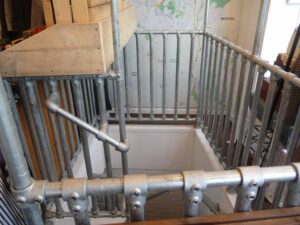 Why should you use key clamps?
With key clamp tube and fittings there is no need for bending, threading or welding – all that's required to complete installation is an Allen key or ratchet to tighten the grub screws onto the tube. It really is that simple. No specialist equipment or training is needed, keeping your on-site costs to a minimum.
Key clamps allow you to configure the steel structure you require specifically to suit the needs of your site, the extensive range of fittings means there's an answer for every angle, corner and positioning required.
Our key clamps and tubes come in a galvanised finish, which makes them highly corrosion resistant. Plus, we also offer polyester powder-coating to any standard RAL colour, which satisfies the slip resistant and 'not cold to the touch' requirements outlined in the Building Regulations Part M: 2006.
Why choose key clamps vs welded railing?
So why is using key clamps better than opting for a fabricated solution?
Key clamp fittings and tube will last longer; typically up to 7 times longer than a welded alternative. Key clamp structures are also easier to maintain. If a part of a handrail were damaged, for example, a replacement part can be ordered and installed with ease, but with a fabricated handrail this process would be more complicated and may even lead to the whole construction needing to be replaced. That, obviously, is an expense you want to avoid.
You won't require specialist welding equipment or trained staff on site in order to install key clamp fittings, only an Allen key or ratchet and a guide if required, which we are happy to provide for you. No welding means you've eliminated the need for a hot work permit and reduced the hazard risks.
With installation being this quick and hassle-free, you can cut on-site time down and get moving to the next project in no time.
Ezi Klamp's quote to site key clamp service
We always aim to make the process as easy as possible for you, which includes taking your requirements, and any plans or technical drawings should you have them, and providing a tailored quote using key clamp products from our varied range. We hold large stocks of key clamps and tube at our factory in Bristol, ready for prompt nationwide delivery.
Whilst we focus on supply, we also offer a handrail installation service, carried out by experienced CSCS accredited operatives.
Get in touch today with your key clamp requirements, call our team on 0117 970 2420, email sales@eziklampsystems.com or fill in our online enquiry form.
Did you find this article helpful? You might enjoy:
Guide to GRP Handrails, Tubes & Fencing (2019)
How to ensure handrail compliance
Last updated: 08.03.2019