The Equality Act (2010), previously known as the Disability Discrimination Act (DDA), works to protect people with disabilities—including blind and partially sighted people—from discrimination.
The DDA covers key areas of life such as employment and training courses; education; facilities and services; premises and transport.
One of the requirements included in the Disability Discrimination Act states that reasonable adjustments should be made to any "physical features" that impact someone's ability in the workplace. Most predominantly, these physical features are entrance and exits as well as steps and lighting. Under the terms of The Equality Act, all commercial and public buildings owners have to provide non-discriminatory handrails and balustrades on stairways and ramps.
Installing a high quality DDA handrail system helps your business or establishment to comply with well-known regulations whilst helping to keep people visiting your organisation safe when moving around.

What are DDA Handrails?
A handrail is a rail that is designed to be grasped by the hand in order to provide stability or support. It helps to provide security to those using stairways and ramps during descent and ascension.
DDA handrails are designed under specific specification to make sure they are the correct design to be completely compliant with regulations.
They're pivotal to preventing a loss of balance for any individual that uses a stairway or ramp to access an institution. Falling or tripping is one of the leading causes for injury in the United Kingdom and (if risks are not treated or addressed) can result in a backlash to the company that didn't sufficiently adhere to compliance of the law or a lack of confidence from an employee in their employer's capability.
DDA Handrails are the method by which a business or institution can stay completely compliant with regulations and laws.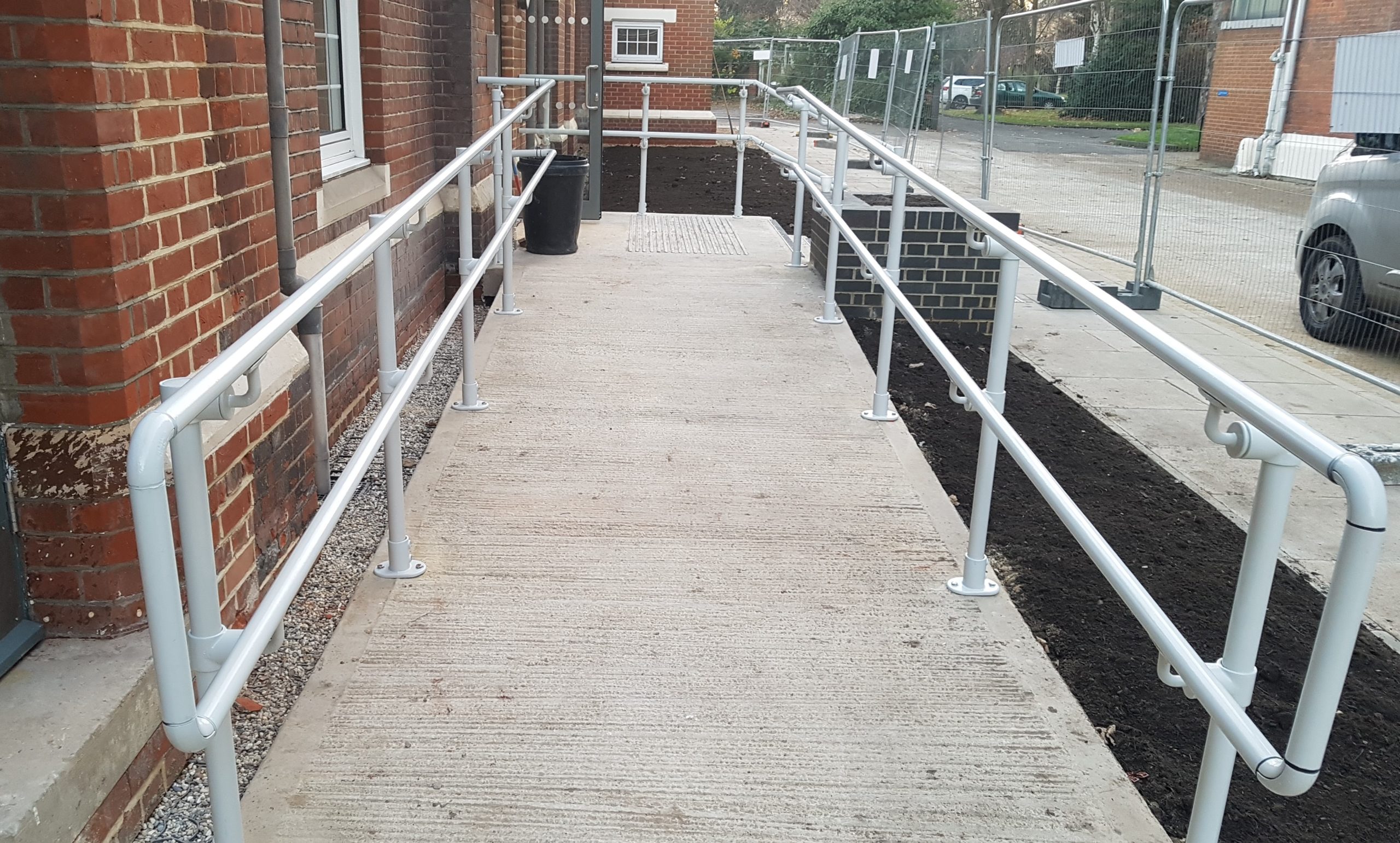 What requirements are essential for handrail compliance?
All handrails are expected to comply with strict height and grasp specifications.
Ezi Klamp's DDA handrail system comprises of simple, individual components and is designed to be assembled easily without any welding or specialist equipment. Components are manufactured to the highest quality possible in accordance with British Standards.
Height & Clearance
Height to the top of the upper handrail from ramp surface pitch line or flight of steps must be between 900mm and 1000mm.
Clearance between the handrail and surrounding wall surface must be between 60mm and 75mm.
The handrail should extend at least 300mm beyond the top and bottom of a ramped access, or the nosing of a stairway, while not projecting into an access route (where possible consider running it further).
Design
The handrail is continuous across the flights and landings of ramped or stepped access.
For ramps that are longer than 2 metres handrails must be installed on both sides and for wide flights handrails should be used to divide it up into channels.
The handrails must contrast visually with the surroundings without being too reflective to increase visibility.
Be circular or oval for ease of grip (42mm width).
The handrail and any wall or surrounding surfaces needs to be free of anything sharp or abrasive.
Handrail should be riveted or screwed into the handrail bracket to prevent rotation.
The material must not feel cold to the touch.

Why DDA Compliant Handrails are important?
Disabled people contribute over £80 billion a year to the UK economy and may account for up to 20 percent of the customer base for an average UK business. Roughly 15 percent (5.4 million) of adults of working age and 45 percent of adults over the State Pension age are disabled.
By law, businesses must make sure that everyone they employ or serve is treated equally and according to their needs—whether or not they are mobility impaired or deaf; have a speech impairment; mental health difficulty; arthritis or a learning disability.
Providers of services and public functions must make their services and premises as accessible as possible. This is what makes DDA Handrails so important. Not only will they make your business more accessible but it will also ensure you're treating your employees and consumers fairly whilst staying DDA handrail compliant.
Providing your company with a DDA compliant handrail ensures that your institution becomes available to everyone by staying adherent with the law.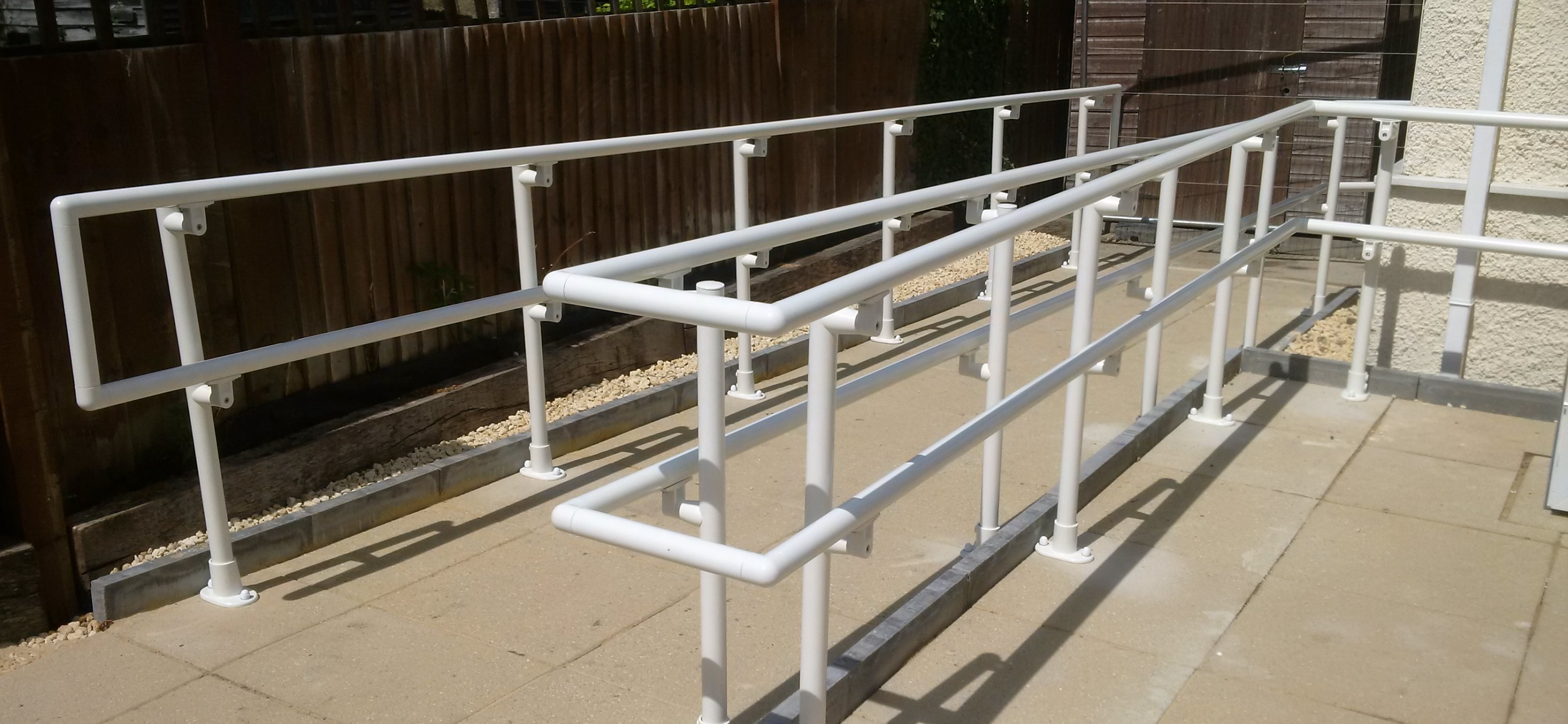 Where to buy DDA Handrails
From the simplest handrail projects to the most complex, Ezi Klamp is proud to have worked with national construction firms, local builders, housing associations, rail contractors, and local authorities to produce quality DDA compliant handrail installations. We always aim to make the process as easy as possible for you and you can learn more about how in our complete quote to site service guide.
The Ezi Klamp DDA handrail system has been meticulously designed with the requirements of its users and the regulations that define its specification in mind. By choosing us as your DDA handrail supplier, architects, contractors and end-users can be completely assured that high standards will be ensured.
At Ezi Klamp, we provide a comprehensive service, with handrails delivered directly to your site in kit-form, complete with full fitting instructions.  We can also offer a full site survey and installation, enabling you to enjoy a streamlined service through one experienced company.
If you already have drawings and specifications at hand, we are able to provide a prompt quotation and speedy delivery, as we hold large stocks. We can tailor our kit systems to your specific needs.
To learn more about how your business can comply to The Equality Act with Ezi Klamp's DDA compliant handrails then contact us today on 0117 970 2420 or email sales@eziklampsystems.com
This article was written by Ezi Klamp director, David Smallridge.
Connect with David on LinkedIn