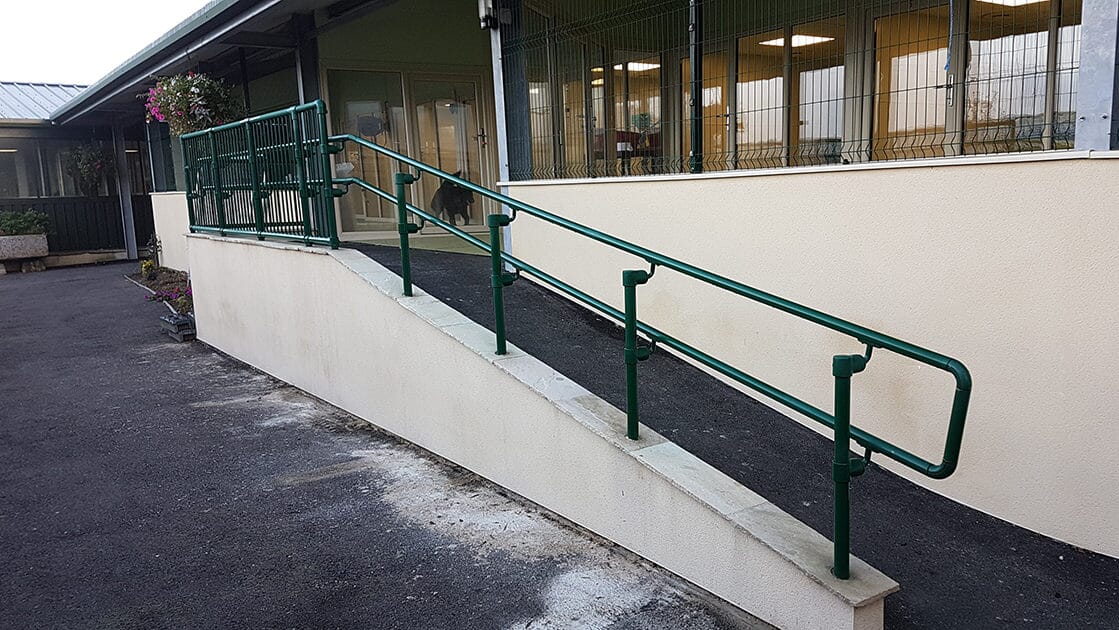 Handrail Installation: How To Ensure Compliance
Compliance is a state of being in accordance with established guidelines or specifications. When it comes to Handrail Installation during a building project, it's important that building owners, architects and contractors all practice compliance.
By staying compliant, you can ensure that you are meeting all necessary criteria to keep user's safe and that the product is performing how it was designed to.
In this guide, we'll outline the appropriate installation and design criteria for handrails and why it's important to choose a compliant handrail supplier for your next project.
What is handrail compliance?
Handrail compliance, as mentioned above, is the practice of meeting specific standards in order to make sure your installation is safe and appropriate for use.
Handrails are designed to improve the safety of users when using inclined access points such as stairs. They also play an important part in providing suitable access for those with disabilities in accordance with DDA handrail specifications.
Slips, trips and falls are very common in public and work areas. Nearly 18% of all workplace absences and injuries are caused by these incidents.
The appropriate standards for handrail compliance are covered in Building Regulations Approved Document K (protection from falling, collision and impact) and Building Regulations Part M (access to and use of buildings).
For full compliance, handrails must also meet legislation from the Equality Act 2010 that outlines that access points must not discriminate against any users.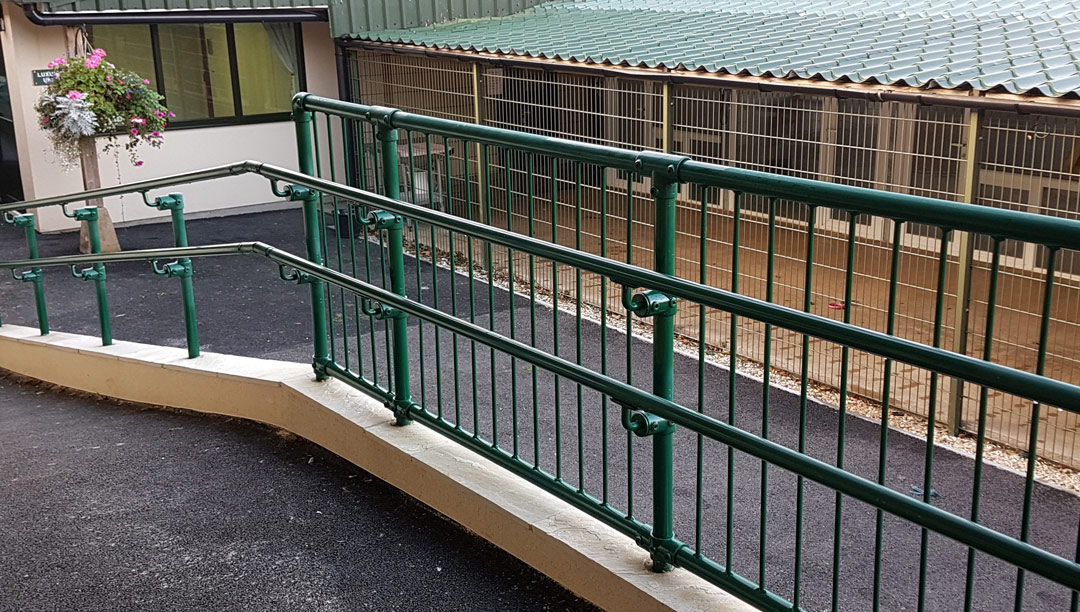 Handrail compliance considerations
So what needs to be considered to remain compliant against the standards of the legislations above?
Placement
To comply with Part M of the Building Regulations standards, every flight of external stairs with three or more steps must have a handrail to at least one side.
If the flight of stairs is wider than 1000mm it must have a handrail on both sides. On flights of steps wider than 1800mm, it is recommended that handrails are used to divide the flight into channels. As standard, handrails on stairs and ramps should be 900mm–1000mm above the pitch line.
Ramps for use in dwellings present a slight difference to those used in the commercial sector. Ramps in a dwelling which are less than a meter wide must have a handrail on one or both sides.
If the ramp is wider than 1m, handrails should be installed on both sides.
For ramps that are not part of dwellings i.e commercial or public areas, handrails must be provided on both sides, unless the ramp runs against a surface such as a wall which means there's no drop.
When installing, the handrail must extend at least 300mm beyond the top and bottom of the access, or the nosing of a stairway, whilst not blocking any access routes (where possible consider running it at a further length).
Placement is all about convenience and getting it right for the users. Accessibility is what handrails are all about and by following the outlined placement standards, you stay compliant and make sure people can safely use your access.
Design
The British Regulations Approved Document K is concerned with protection from injury through infrastructure from common accidents such as falling and collision. Its contents cover the importance of design, not only of the ramps and staircases but the manufacture/qualities of handrails.
For firm and stable support, handrails should be circular for ease of grip and the outside diameter of the tube should be between 40-50mm.
In terms of grip, handrails should ideally have a non-slip surface to prevent users from losing contact and therefore stability. To comply with the Equality Act, DDA handrails must also not be 'cold to the touch'.
This would be advisable for common use handrails too as in cooler temperatures, individuals may be reluctant to use handrails to assist them and therefore risk accidents.
The handrails must also be smooth as to not catch on skin or clothing. A smooth surface also increases the full contact a user has with the handrail.
Handrails must also be curved at the end to reduce the direct impact should someone bump into them.
The colour of handrails must also contrast visually with the surroundings without being too reflective to increase visibility. More than 2 million people in the UK suffer from a form of visual impairment.
A high number of these people are able to recognise colour differences and can detect light. This means that colour contrast is essential for helping visually impaired people access and navigate a building safely.
Ezi Klamp DDA handrails are usually supplied with a polyester powder-coated finish which satisfies 'not-cold-touch' and visibility requirements.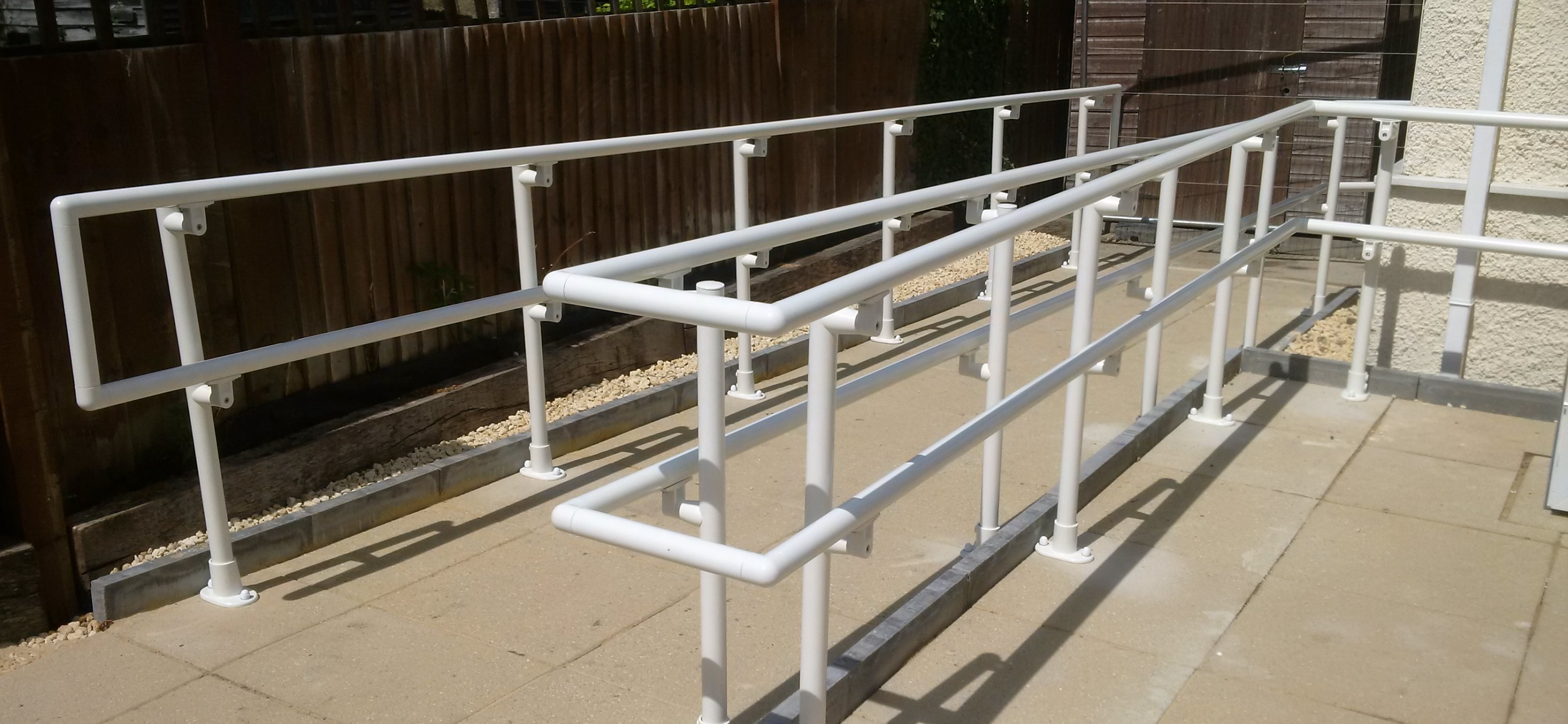 The importance of compliant handrail installations
In the UK there are over 500 deaths and an estimated 250,000 non-fatal accidents from stair-related incidents. Remaining compliant with official standards makes sure that the risk of injury or damage is reduced.
Not remaining compliant is risky but also neglects requirements from the Equality Act 2010 and is discriminatory. Employers, educational institutes, service/transport providers and so many others have a responsibility to comply with the Act and provide safe access to all.
The correct installation of handrails increases stability for all and makes access so much more efficient and safe.

Compliant handrail installations with Ezi Klamp
All of our handrails at Ezi Klamp are manufactured to be compliant with British building regulations. Our DDA Handrail System is smooth and continuous, powder-coated so they're not cold to touch and come in colours that contrast with surroundings.
They also have a 42mm diameter rail and are easy to assemble without welding or specialist equipment which improves safety before they're even being used!
We pride ourselves on our comprehensive service and the way we can deliver our handrails directly to your site in kit form with all the instructions.
We also offer a full site survey and installation should you need it, meaning you can get everything you need to stay compliant through one experienced company.
To learn more about handrail compliance for your business then contact us today on 0117 970 2420 or email sales@eziklampsystems.com
This article was written by Ezi Klamp director, David Smallridge.