University Hospital of Wales - Roof Guardrail & Key Clamp
Project Name: COVID 19 ward extension to University Hospital of Wales
Location: University Hospital of Wales, Cardiff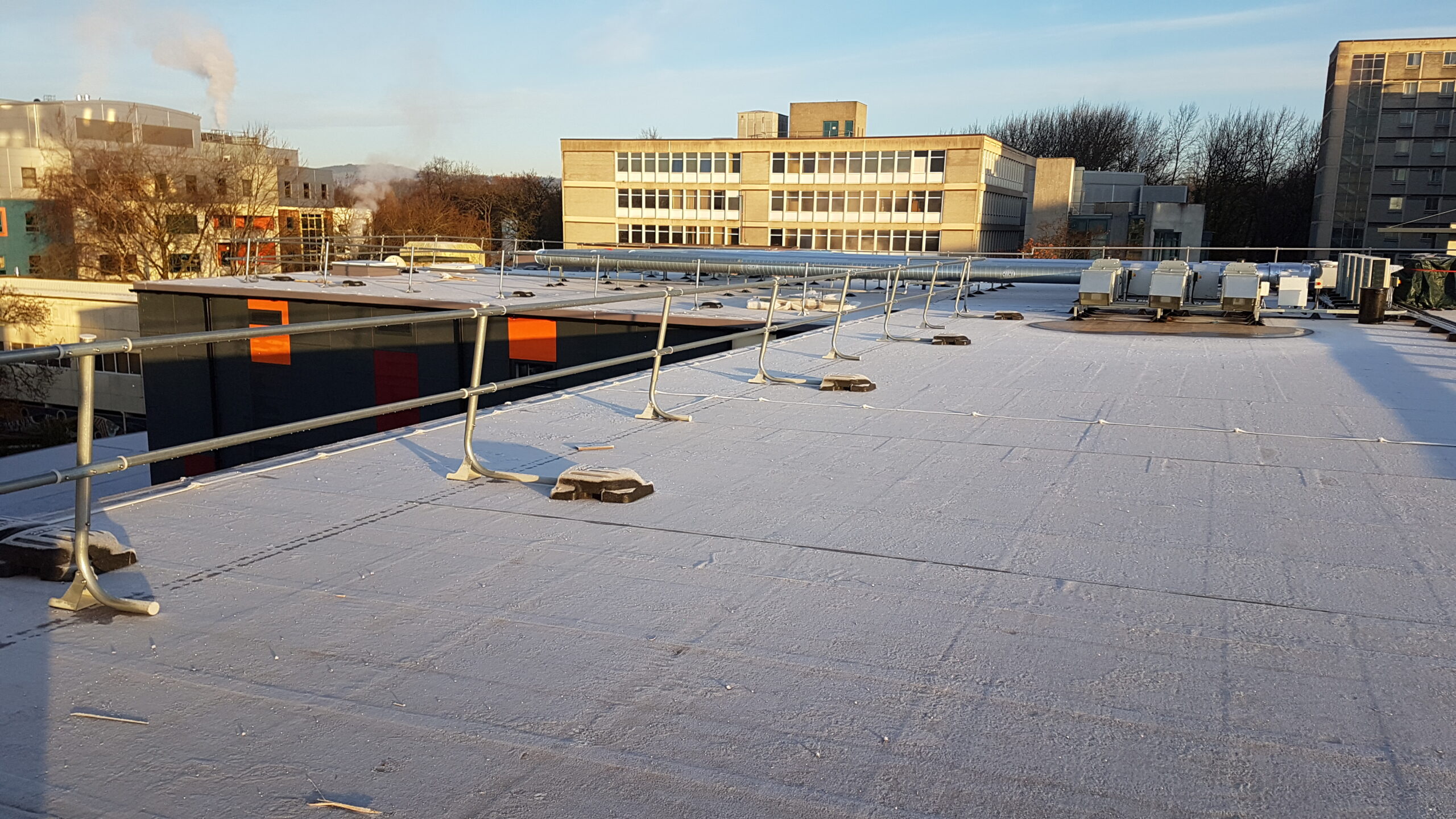 During the heat of the COVID-19 pandemic in October 2020, Ezi Klamp was contacted by Darwin Group to help supply & install a number of safety solutions to the newly completed hospital extension.
Due to the high number of hospitalisations from coronavirus happening in this period, The hospital required more space to accommodate patients. The £33 million construction helped provide an additional 234 beds which meant the Lakeside Wing of the hospital now had a total capacity of 400 patients.
The hospital extension was created from 280 building modules which were installed in a record 20 weeks! Furthermore, there are already plans to repurpose the building, ensuring it will continue to be useful for many years to come.
Ezi Klamp worked with Darwin Group to supply several solutions, complimenting Darwin's modular build technique, working tirelessly to deliver ahead of schedule. Shortlisted for three major construction awards, this project revolutionised the University Hospital of Wales in Cardiff and helped them to deal with the pandemic.
Ezi Klamp provided several of our high-quality modular products, and our expert installation team worked hard through the frosts of October to deliver strong and effective safety solutions.
Our free-standing roof guardrail contributed greatly to this project. Fully modular, quick and easy to install, our team were able to work efficiently to transform the roofs of the new wing into a safe working environment. With quarter of workplace deaths in a year being due to falls from height, and rooftops being in need of constant maintenance and inspection, Ezi Klamp's roof guardrail was a must to keep personnel working on the roof of the Lakeside Wing at the UHW safe. A major advantage of our roof guardrail, and one that contributed greatly to the speed of the project, is that it doesn't penetrate the roof membrane. This makes installation much easier and quicker, and also means it can be modified or replaced easily in the future if needed.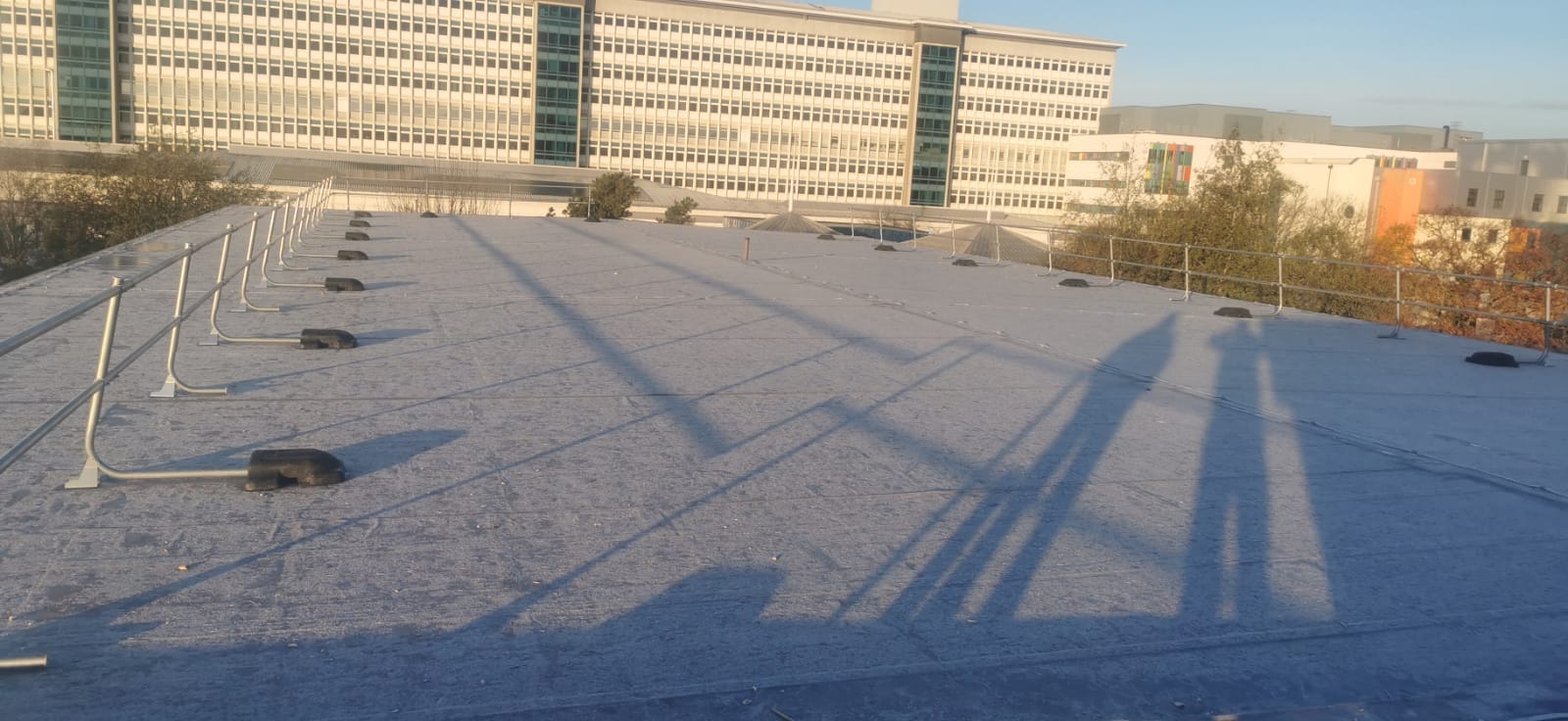 Ezi Klamp also provided several of our bespoke roof stepovers to the roofs of the Lakeside Wing. Fully modular, light and easy to manoeuvre, these stepovers are ideal for many applications, and a great option for your roof! Ezi Klamp had to bridge ducts and cables on the roof of the new wing of the UWH and create a safe path for maintenance workers. Our stepovers were the perfect solution for this application, as they are custom made to whatever dimensions required.
As well as helping to secure the roof, Ezi Klamp also worked on the ground to provide more safety solutions, keeping staff and patients safe. Armco type crash barrier is the UK industry standard, and a reliable option to keep properties safe, highly resistant to impact. We installed Armco in the ambulance drop off point for the Lakeside wing, ensuring safety for vehicles and pedestrians in this area. Similarly to many other Ezi Klamp products, Armco crash barrier comes in a modular form, meaning that if a vehicle does hit it with enough form to cause damage, it is easy to remove and replace the section in question.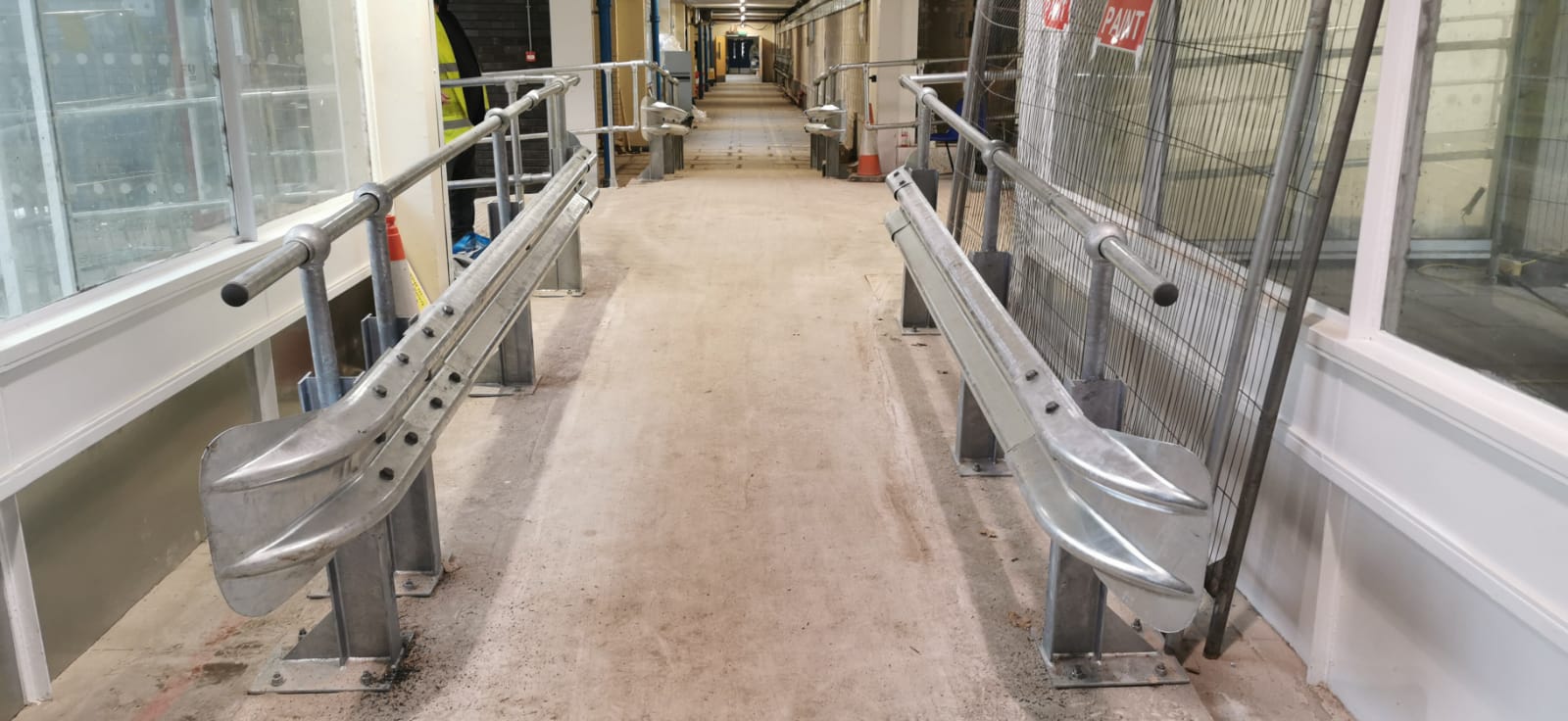 The final product Ezi Klamp put forward and installed for the Darwin Group in Cardiff was our core product, key clamp handrail. A long standing industry favourite, key clamp is strong, durable and will not let you down! As with the rest of the project, the key clamp handrails and guardrails we installed at the UWH are modular, and all that is needed is an Allen key to modify them and change them as needed!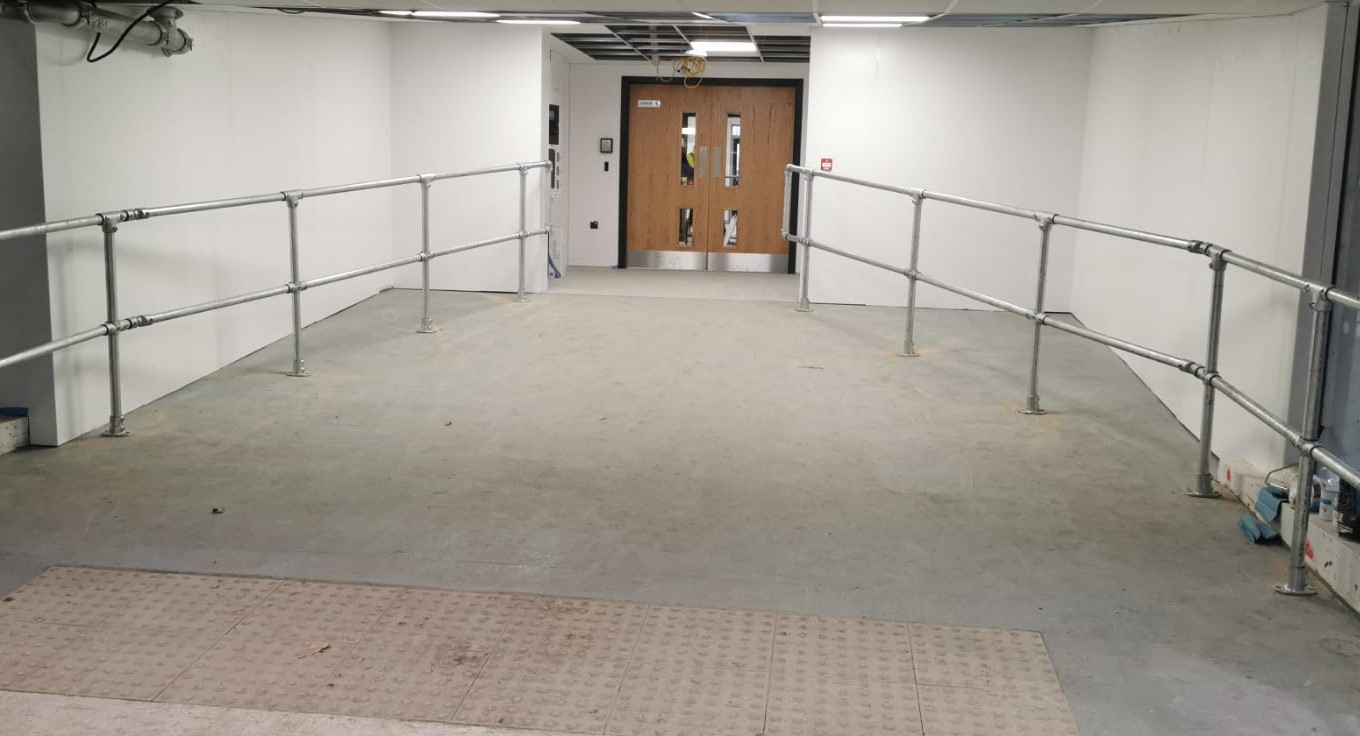 We have a wide array of modular products that will make your project quicker and easier, as well as making change in the future even easier!
Ezi Klamp Products Used: Key Clamp Handrails, Armco Crash Barrier, Roof Guardrail System, & Roof Stepovers
Source: http://www.darwingroupltd.co.uk/news/darwin-group-completes-final-phase-of-welsh-covid-19-ward/