Education

Leader in handrail and barrier installation for education facilities across the UK

The UK's global reputation for world-class education means our education sector is growing year on year. As student populations soar, construction output expands and Ezi Klamp's innovative solutions are at the forefront of this thriving industry.
Key Clamp Handrail & DDA Handrail

Croesyceiliog Comprehensive School – DDA Handrail Project

Installation of our powder coated DDA Handrail & Key Clamp handrail systems at this new school in Cwmbran, Wales...

Barking Riverside, East London

Barking Riverside Project – GRP Handrails

Our GRP handrail system providing safe access route for maintenance personnel along the new train viaduct at Barking Riverside...
Ezi Klamp is the UK's leading provider of key clamp handrail systems. We have been supplying the education sector for over 23 years
with a number of cost-effective systems designed to keep people safe. Whether it's stair railings at a university entrance, or barriers in the school drop-off zone, our solutions – from DDA handrails to bollards – serve to protect students and staff.
As proven through our dedicated work
with institutions such as Imperial College London and Croesyceiliog Comprehensive, we understand precisely what is needed to ensure nurseries, schools, colleges and universities are safe and fully compliant with regulations.
Our DDA handrails establish safe, non-discriminatory environments for students with disabilities. As per regulations laid out by the Disability Discrimination Act (DDA), our off-set, 45mm handrails provide guidance and support to the visually impaired via a continuous, smooth and 'cold to the touch' surface.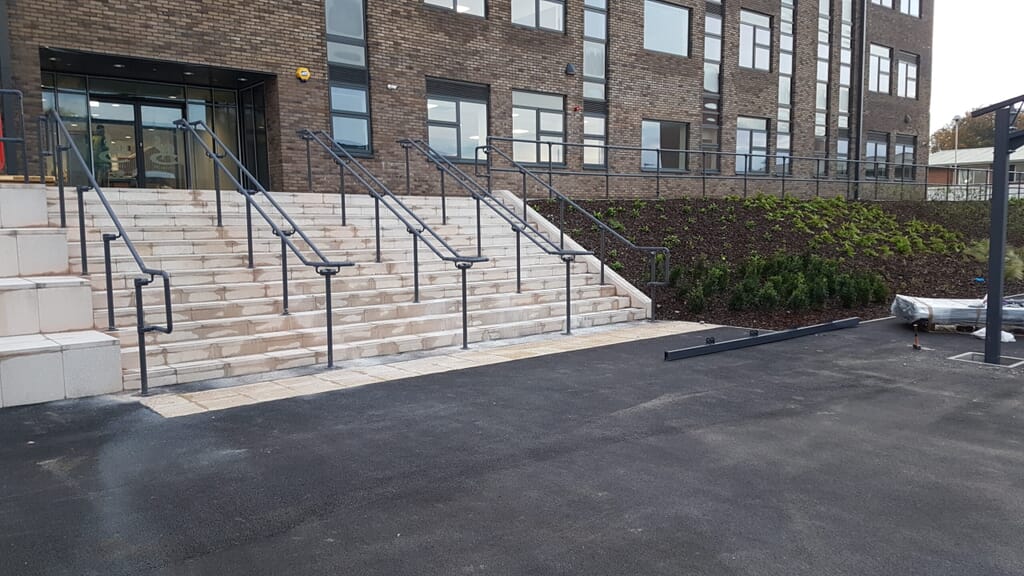 Up on rooftops, our easy-to-assemble roof guard rails offer simple yet stable shielding from building edges
and out in the school car park, Armco-type crash barriers and bollards ensure the protection of people in vehicle-heavy areas.
We pride ourselves on our close working relationships with clients and we're here to offer as much (or as little) guidance as you require. Based on your drawings and specifications, Ezi Klamp can provide quotes and advice on regulations and installation. And, if you want to take the pressure off, we can also carry out the installation itself, ensuring your site meets all the legal requirements. It all comes down to what you want, but either way, Ezi Klamp will guarantee your construction project runs smoothly.
Popular Ezi Klamp Ranges for the Education Sector