Are you meeting roof edge protection requirements?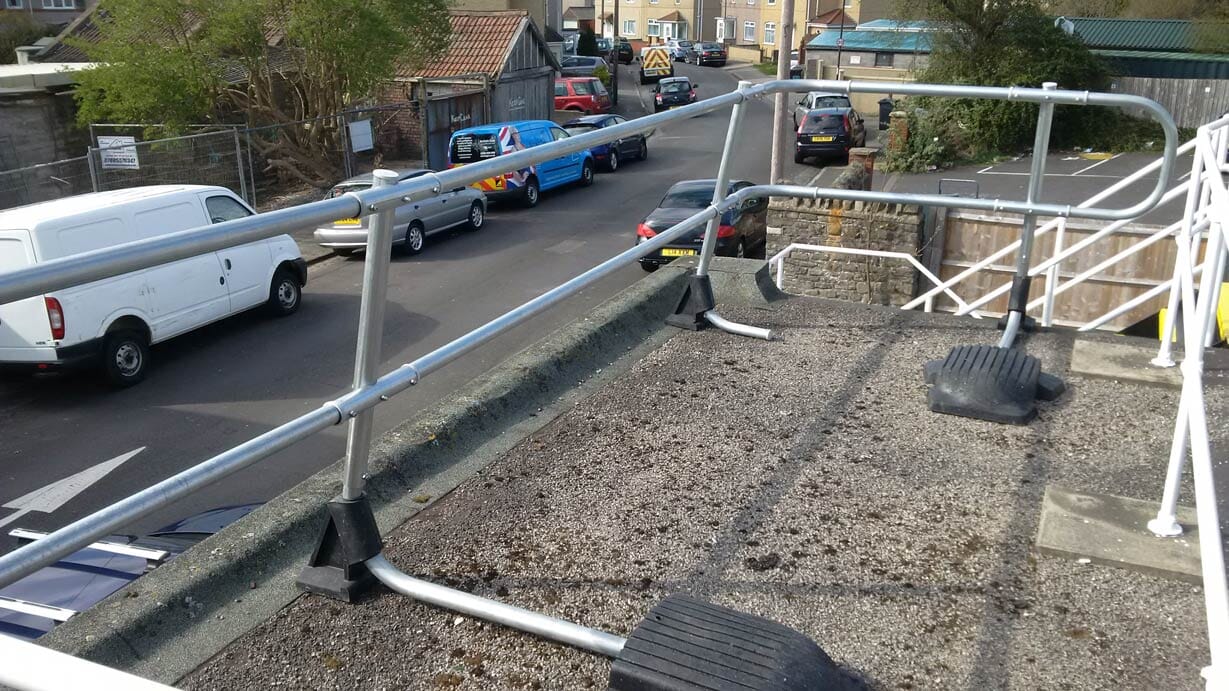 Working on roofs can be extremely dangerous, in fact, falls account for more deaths and serious injuries in construction than anything else. But accidents can also occur to those maintaining, cleaning, demolishing and inspecting roofs, not just those building them.
Wherever anyone could fall, the first line of defence is to provide adequate roof edge protection.
What are the requirements?
HSE summarises the basic requirements for roof edge protection in their guide to working on roofs. Here they say that such protection should include or be equivalent to a main guardrail at least 950mm above the edge, a toe board guard where there is risk of objects being kicked off the edge of the platform, and a suitable number of intermediate guard rails or suitable alternatives positioned so that there is no gap more than 470mm.
However, there are a number of standards and regulations that address roof fall protection guardrail systems and this can cause serious confusion. Unfortunately, there is no one size fits all solution as often the load and testing criteria differs from document to document. Therefore each situation has to be considered individually, taking into account the potential risks and the construction of the roof. There are no specific regulations or standards relating to cantilevered or free-standing guardrails, which can be used as both temporary and permanent solutions, but the following documents should be considered when a system is being specified.
Building Regulations part K
In order to be compliant with part K2 of the Building Regulations, which covers 'Protection from falling', any "stairs, ramps, floors and balconies and any roof to which people have access" require the use of suitable protective guardrails for the specific circumstances. This edge protection needs to consist of at least two horizontal rails and have a minimum height of 1100mm.
Part K also has a specific section for the 'Guarding of areas used for maintenance'. This states that if access will be required less frequently than once a month it may be appropriate to use temporary guarding. The Construction (Design and Management) Regulations 2007 and the Work at Height Regulations 2005 give instructions for these cases, including a relaxation of the suggested loadings where the frequency of access is low and controlled. This referral to the CDM regulations requires a risk assessment to be carried out to ensure the guardrail is sufficient.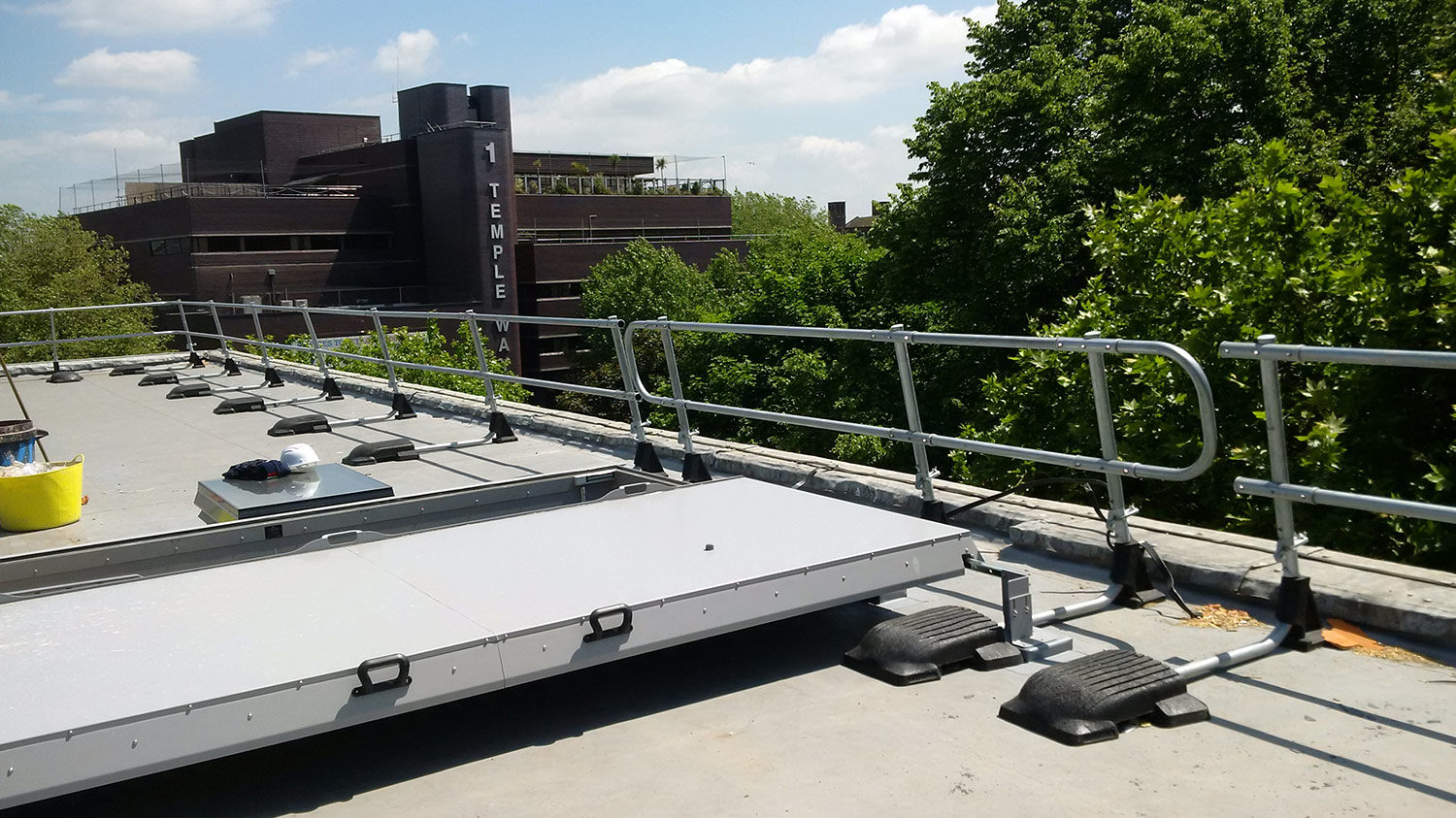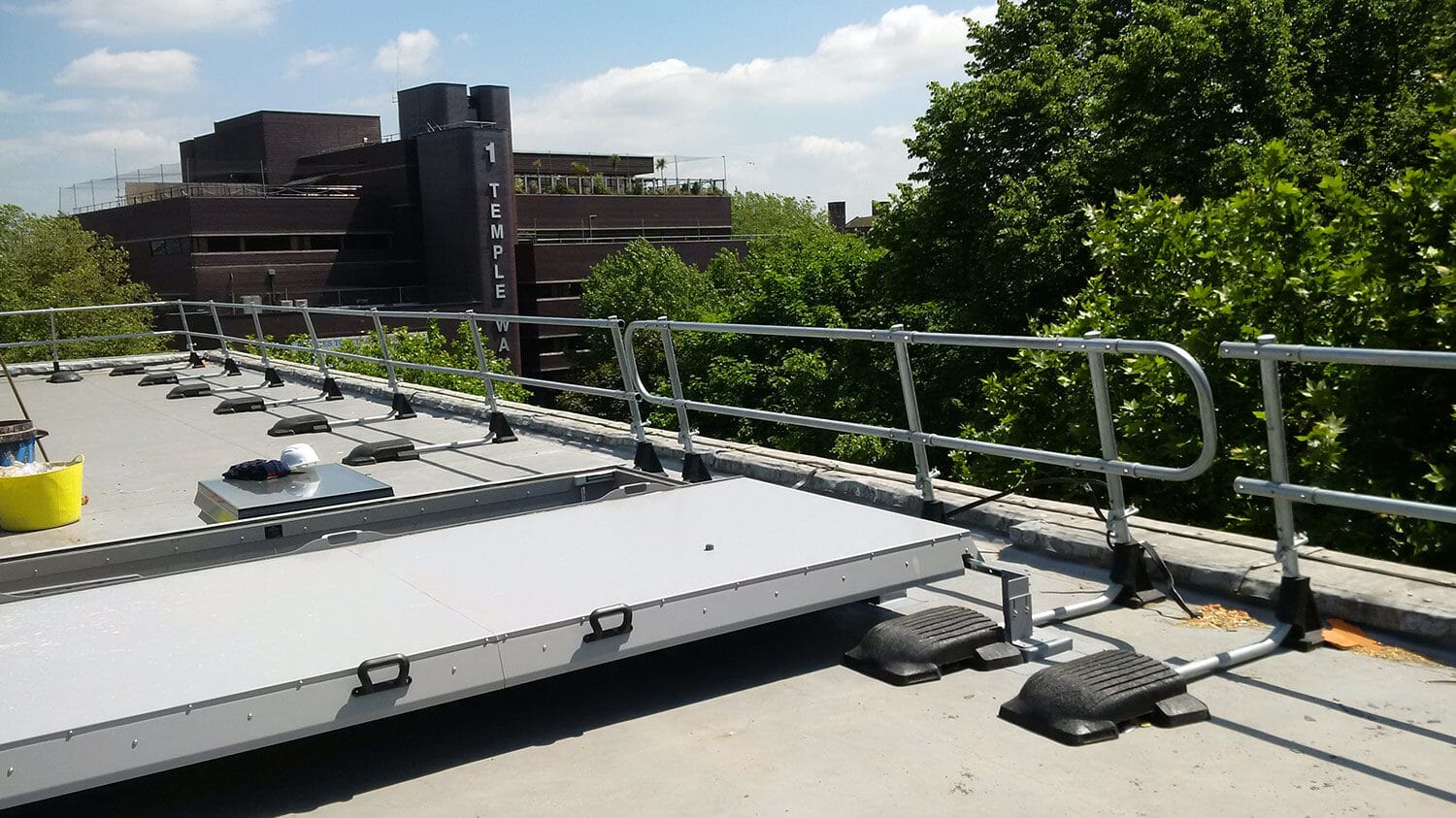 BS EN 13374 Temporary Edge Protection Systems
This standard states that edge protection systems should be selected primarily based on the gradient of the surface for which they are to provide protection. Compliance requires a system to withstand loads applied perpendicularly, horizontally and vertically.
The performance of the edge protection system being tested to BS EN 13374 is rated based on three Classes:
Class A 0-10° roof pitch
Class B 10-30° roof pitch
Class C 30-45° roof pitch, and up to 60° for 5m slopes
All of these Classes have a static load requirement and Classes B and C also have a dynamic load applied, representing someone rolling down the roof slope and making contact with the guardrail. However, you still have the freedom to choose a system with a Class for steeper slopes than your application if you have identified hazards in your risk assessment that suggest it might be needed.
BS EN ISO 14122-3 Safety of Machinery
The confusion that often surrounds the standards for roof edge protection has led to some companies carrying out independent assessments. In some cases they have applied standards such as EN 14122-3 Safety of Machinery and, whilst this does provide a uniformly distributed load and a deflection criteria, it is intended for guardrails around plant and machinery. This does not address roof pitch, roof membrane, wet or dry conditions, up stand details or toe board requirements and so is less appropriate for edge protection on roofs. When there are no specific standards relating to a product, rather than following standards which are only partially relevant it is better to establish whether it is fit for the intended use.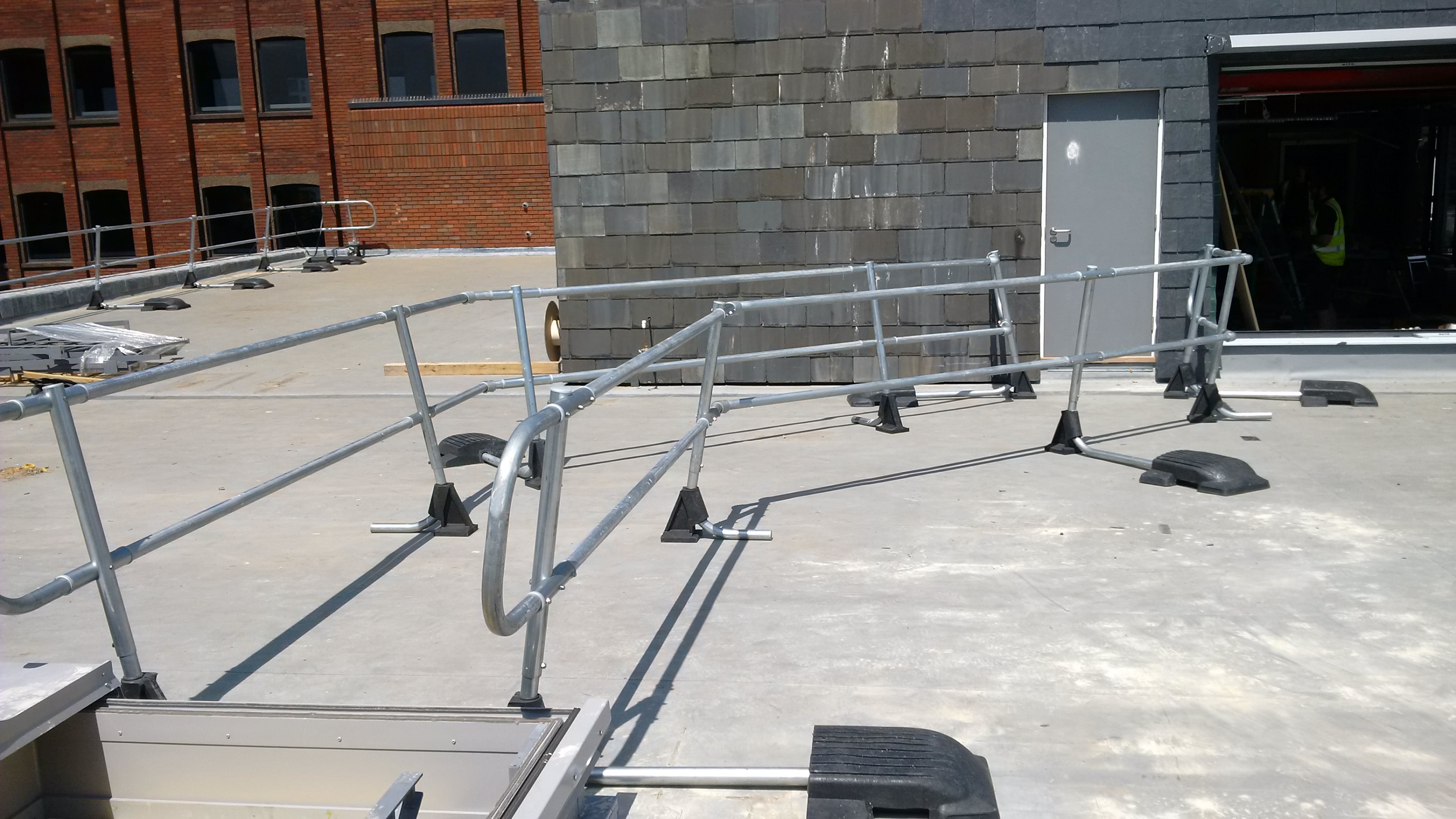 The Work at Height Regulations
Introduced in 2005, the Work at Height Regulations require all those responsible to ensure that any work at height is carried out safely, starting first with a risk assessment. The solutions chosen after this assessment need to be suitable and sufficient to ensure the prevention of people and objects from falling.
In 'schedule 2' of the regulations it states that in temporary provisions of protection the top guardrail or other similar means of protection must be at least 950mm high. Toe boards should be suitable and sufficient to prevent the fall of any person, or any material or object. The intermediate guardrail or similar means of protection must be positioned so that any gap between it and other means of protection does not exceed 470mm.
Permanent protective barriers, however, must comply with the Building Regulations Part K criteria in relation to height. As a result of this, the 470mm gap mentioned above would not be possible. If the 'existing place of work' (I.e. access needed for maintenance, cleaning, inspecting etc.) becomes 'construction work' then the barrier would then need to follow the criteria set out in the Work at Height Regulations, meaning toe board and further intermediate guardrails would be needed in order to comply with the 470mm gap.
Conclusion
In order to choose the most effective roof guardrail system for your application, these standards and regulations need to be carefully considered, if not always for 'compliance' but to ensure that it is fit for purpose. Ask the manufacturer if they can provide test reports and get advice on whether a particular system is suited to your intended use, taking into account the roof pitch, membrane type, and performance in both wet and dry conditions. A risk assessment can be carried out to determine if the selected solution is sufficient to provide protection from people or objects falling.
Looking for more guidance on roof edge protection?
Ezi Klamp offer a reliable, effective and simple to install free-standing roof guardrail system. This system has been designed to provide roof edge protection where regular access for maintenance and inspections is required, without the need to mechanically fix through the roofing membrane. It is formed using 48mm diameter galvanised steel tube and is simply clamped together with stainless steel set screws, which ensures a durable, maintenance free finish. The strength and stability of the system is obtained with a simple cantilever weight.
For more advice on specifying a roof guardrail system, get in touch with the Ezi Klamp team today on 0117 970 2420.
Or send us your drawings and roof edge protection requirements and we'll supply you with a prompt quotation, email us at sales@eziklampsystems.com
Related Product Categories
First Published:
08/08/2018
(Updated

05/04/2023

)