When To Provide Roof Edge Protection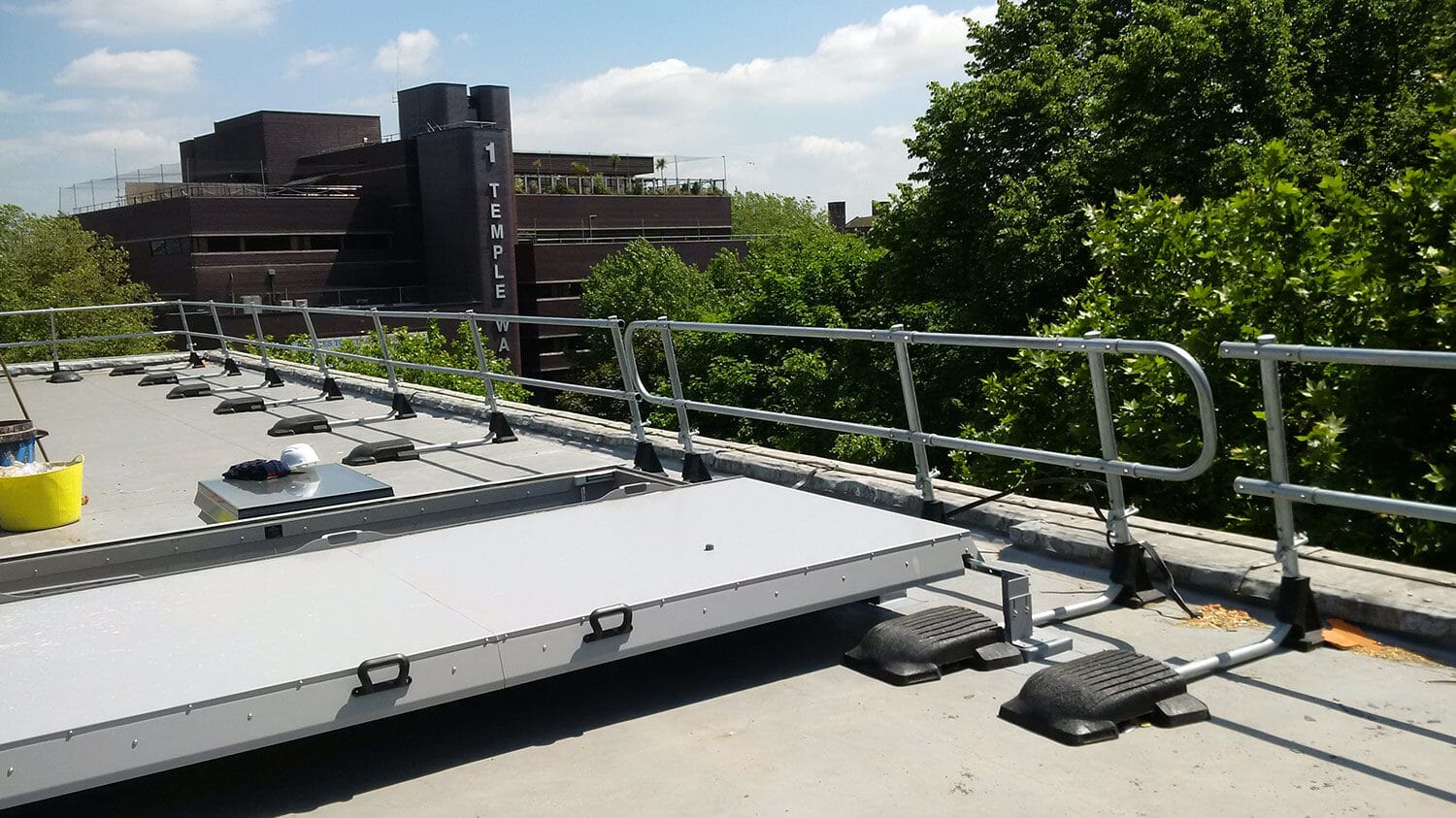 Whether it is for rooftop maintenance, inspection, plant access or work at height, the use of roof edge protection is stipulated for many buildings and tasks in accordance with regulations, statutory requirements and health and safety guidance.
What is roof edge protection?
Roof edge protection is a structure or enclosure installed to prevent falls and injuries at height. Forms of roof edge protection are placed around the perimeter of a roof so that there is a reduced potential of people or materials falling over the edge.
When working at height can't be avoided, roof edge guardrail systems provide a barrier that limits people and materials from coming close to the edge.
When to use roof edge protection?
Any work on a roof is high risk because it involves working at height. No matter how long or short term, all roof work must be carried out with the risks and precautions covered by suitable protective measures.
Roof edge protection is the only way to ensure there are measures in place to prevent falls over the edge of the building when roof work can not be avoided.
The height at which you need roof edge protection is not a numerical value. Roof edge protection is a necessity whenever roof work or access is existent because roofs are elevated from ground level and falls from them are enough to cause fatal or critical injuries.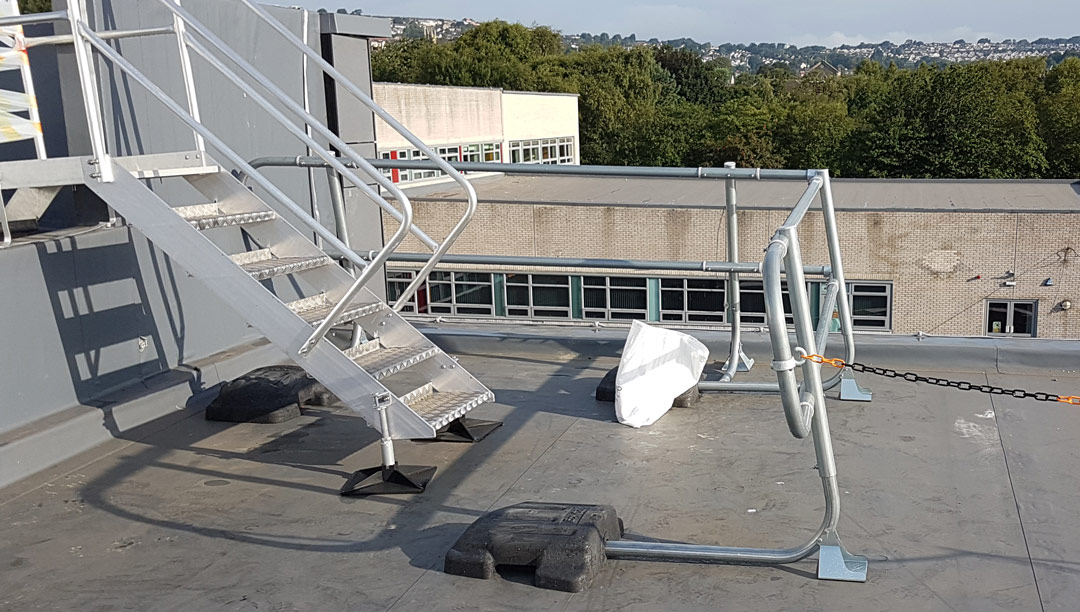 What are the types of roof edge protection?
Roof edge protection comes in different shapes and sizes. Dependent on the application, roof design and time management of the project, some roof edge protection options have clear advantages over others.
Scaffolding
Scaffolding is commonly used as roof edge protection used to protect workers from falling. However, it is not considered to be a long term solution and isn't best used by those not in construction.
Fixed roof handrails
Handrails are fantastic safety solutions when it comes to accessibility and compliance. They're stronger and sturdier than scaffolding with a more visually appealing finish but can cause issues with the roof membrane.
As handrails require securing into a surface, you may be able to fix handrails to a building parapet, or a concrete/steel roof structure, but you need to check you don't jeopardise the roof waterproofing with holes.
Free-standing roof guardrail
A free-standing roof guardrail system, unlike scaffolding or fixed handrails, is a self-supporting structure.
The strength, stability and safety of the system are obtained with a simple cantilever weight. This counterbalanced weight ensures that the system can handle moderate winds to stay upright in poor weather and will be able to counter the impact of a body colliding in the case of an accident.
Roof guardrails also offer a more visually appealing option for existing buildings where appearance matters. Free-standing roof guardrails have a clean, metallic finish, a consistent frame and blend into their environment.  There is also a collapsible option if the client or architect doesn't want to see handrails from the ground. These can then be raised by the maintenance operatives prior to work starting on the roof area.
This guardrail system is designed for long-term applications on roofs across all sectors and is ideal as permanent edge protection where regular access for maintenance or inspections are required.
For facilities and factories where roofs are frequented areas such as schools or healthcare premises, they are ideal. For roofs of buildings where access is not frequent but is required on occasion, it's very good practice to install free-standing roof guardrails to provide peace of mind to the building owner knowing any maintenance operative can safely work on the roof without a risk of falling.
An example of this is the development of new builds being designed with solar panels as a feature and current buildings are having them installed to reap the energy-saving benefits. Solar panels can require regular cleaning and maintenance to maximise their potential and having a free-standing roof guardrail system installed will ensure they can be accessed safely when required.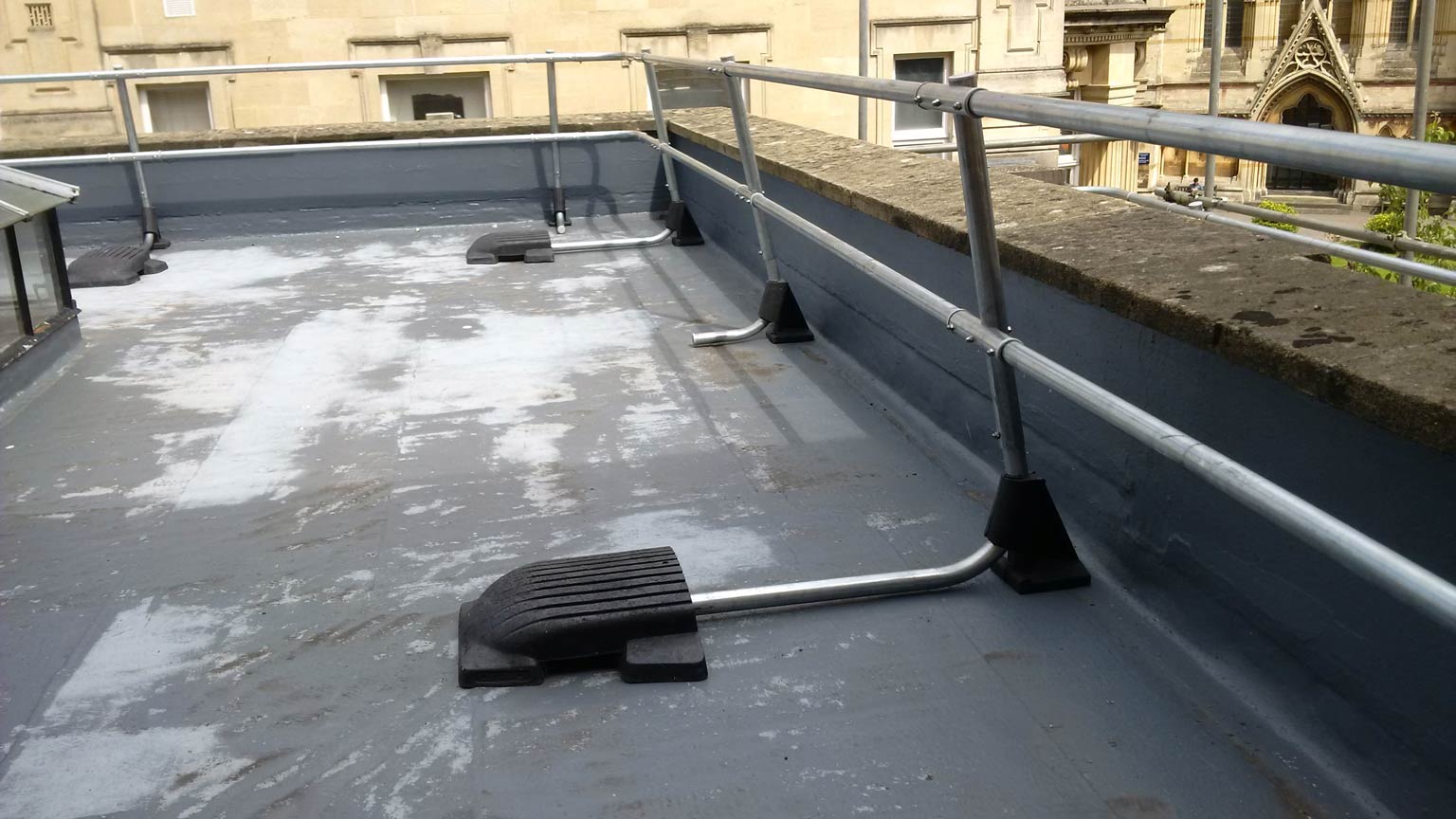 Roof protection compliance
To ensure free-standing roof guardrails are fit for purpose, they must be compliant with building and manufacturing legislation that guarantees they are the correct height, material and placement. Having roof edge protection also ensures you remain compliant with legislation for site safety.
In accordance with The Work At Height Regulations 2005, roof edge protection must have sufficient dimensions, sufficient strength and rigidity. The top guardrail must be at least 1100mm and gaps between guardrail frames should not exceed 470mm.
The UK Building Regulations Part K requires a guardrail to consist of a minimum of two horizontal rails as the standard for the best provision needed to give an acceptable level of safety.
The Construction (Design and Management) Regulations 2007 stipulate that there shall be suitable and sufficient safe access to and egress from every place of work and to and from every other place provided for the use of any person while at work.
It also requires that a risk assessment is made to ensure that the guardrail is suitable and sufficient to prevent persons and objects from falling.
BS EN 13374:2013+A1:2018 is the document that specifies the requirements and test methods for temporary edge protection systems for use during construction or maintenance of buildings and other structures. When free-standing guardrails are placed and secured they must not become misplaced and should be designed to avoid accidental removal or displacement.
For more information, read our blog on roof edge protection compliance or use the list of relevant material below:
Free-standing roof guardrails from Ezi Klamp
Free-standing roof guardrails from Ezi Klamp are designed to make sure maintenance, access and work on roofs are safe and efficient. Our system can be set up by any competent individual, no qualifications necessary, and comes in kit form with all posts pre-assembled and rails cut to length to make installation simple. This cuts downtime before work can commence on-site and can ensure premises are prepared for maintenance sooner.
All of our guardrails are set at a 1100mm height with a mid-rail at 550mm to match building regulations. Every part has been tested and complies with BS EN 13374:2013 to ensure all standards are met.
As free-standing roof guardrails are permanent fixtures that are constantly exposed to the elements, our guardrail systems are designed to need minimal maintenance. The Ezi Klamp guardrail system is formed using 48mm diameter galvanised steel tube and fittings with stainless steel grub-screws for a durable, maintenance-free finish to ensure the guardrail system's quality doesn't decline.
Our 20kg counterbalance weight is even made from non-penetrating, recycled rubber for the appropriate safety with environmental awareness.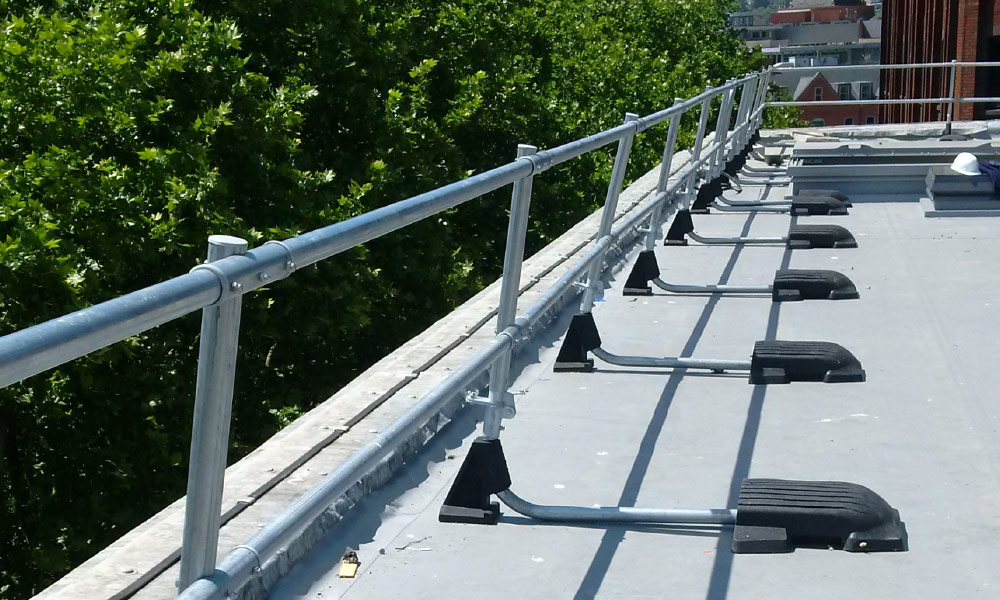 Ordering your roof edge protection
Ezi Klamp can send you a prompt quotation based on your drawings and quantities. Whether it's a take-off service from a roof plan or an architectural drawing, we can get your roof edge protection system prepared and delivered quickly, with next day delivery on stock items ordered by 3PM.
If you need a roof edge protection solution, make Ezi Klamp free-standing roof guardrails your choice.
Contact the Ezi Klamp team today on 0117 970 2420 or email sales@eziklampsystems.com
Related Product Categories
First Published:
11/12/2019
(Updated

05/06/2023

)