Finding The Right Roof Edge Protection For Your Project
Guardrails are essential for ensuring safety on your site, particularly at elevated heights like rooftops. However, not all guardrails are created equal. This guide gives you an in-depth look at roof edge guardrails and edge protection systems, highlighting their pros and cons.
The Role of Guardrails in Roof Safety
Guardrails act as a safety barrier, helping to prevent falls and keep workers and others safe when they need to work at height on the roof. They're a vital part of any fall protection system and are often required by safety standards.
Our article, 'When to provide roof edge protection', helps you ensure your workers are safely protected on the roof.
Types of Guardrails
Guardrails come in two main types, suitable for different kinds of roofs.
Fixed Guardrails

Non-penetrating Guardrails
Fixed Guardrails
Benefits: These are often more rigid due to their attachment to the roof surface. They are also generally less expensive.
Disadvantages: The major downside is that they require drilling into the roof membrane, which can lead to potential leak points and may void your roof warranty.
Non-Penetrating Guardrails
Benefits: These guardrails are designed to be freestanding, stopping the need to penetrate the roof membrane. This preserves the integrity of the roof and keeps your warranty intact.
Disadvantages: They can be more expensive upfront.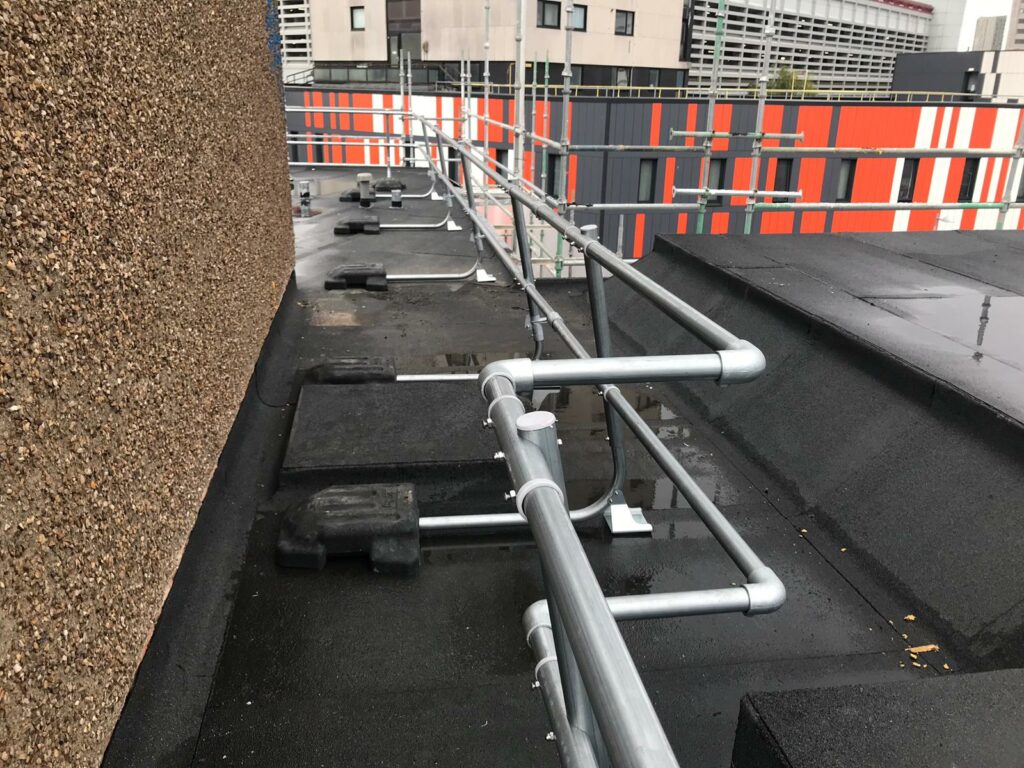 Why Choose Ezi Klamp's Free-Standing Roof Guardrail System?
Ezi Klamp's Free-Standing Roof Guardrail System is a non-penetrating solution designed and tested to ensure a safe working environment for rooftop maintenance personnel. Here are the key features that make it the best choice for most flat roofs:
Complies with Safety Standards
Our system complies with and is tested to BS EN 13374:2013 and EN ISO standards, ensuring it meets the highest safety standards.
Quick and Easy Installation
Our cantilever system comes with pre-assembled posts, making the installation quick and straightforward. Due to the lack of drilling and fixing into the roofing, installation can happen during work hours without disrupting residents or employees within the building.
Long Life Span
The galvanised finish ensures that the guardrails can withstand the harshest environments and have a long life span, ensuring the safety of your roof for years to come.
No Roof Penetration
The non-penetrating design means there's no need to compromise the integrity of your roof membrane. This reduces the risk of installation complications such as water ingress and costly repairs.
Fast Nationwide Delivery
Wherever you are, we can get our Free-Standing Roof Guardrail System to you within 48 hours, meaning you can go from design to installation in a matter of days rather than weeks.
While various types of guardrails are available, Ezi Klamp's Free-Standing Roof Guardrail System offers a range of benefits that make it the optimal choice for most roofing solutions. From compliance with safety standards to ease of installation and durability, our system ticks all the boxes.
Visit our Guardrail product page to explore our ranges, or call one of our advisors on 0117 970 2420. You can also email us at sales@eziklampsystems.com, and we'll be more than happy to assist you.
Related Product Categories