Key Clamp Handrails v Prefabricated Handrails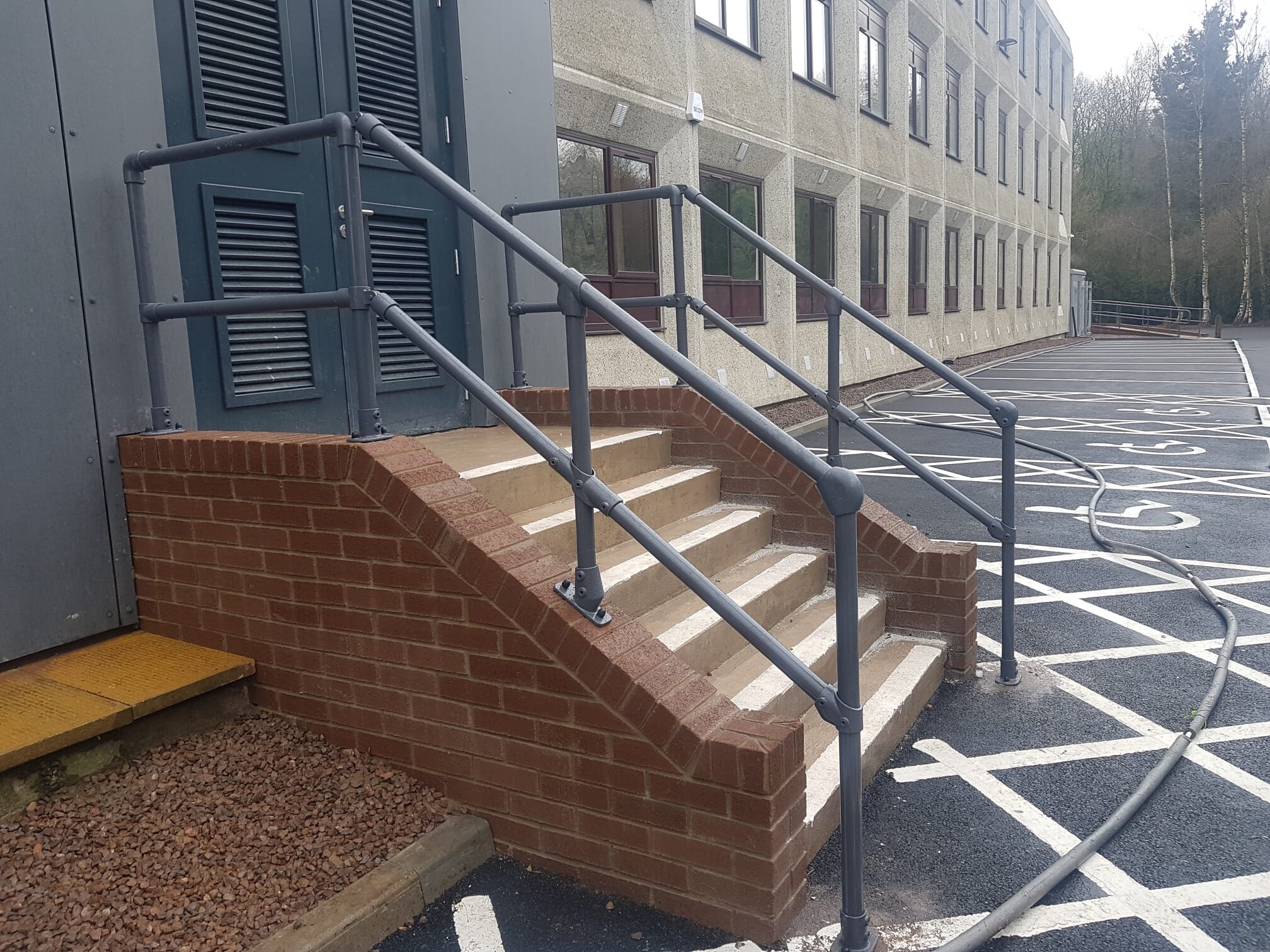 Handrails play a pivotal role in our everyday lives. Often unnoticed, they ensure safety in homes, offices, schools, and countless public spaces. Today, we will compare two of the most common types of handrails: Key Clamp Handrails vs Traditional Prefabricated Handrails.
The Case for Key Clamp Handrails
The name Key Clamp Handrails has become increasingly common when considering modern handrail systems. But why are they often chosen over more traditional handrails?
Simple installation
Key Clamp Handrails are incredibly easy to install. The whole setup comes with pre-sized tubes and fittings, so you can have your handrail up and running quickly. This convenience drastically reduces the time and cost of hiring a specialist installer.
Durability
Key Clamp Handrails are made from galvanised steel, which makes them incredibly strong and durable. They're resistant to corrosive environments and can withstand the test of time and heavy use.
Customisability
Key Clamp Handrails are highly customisable, allowing you to choose the perfect configuration for your space. You can choose the length, height, style of the handrail, and the colour of the powder coating. This makes them perfect for any application.
Speed
Thanks to their modular designs, key clamp handrails are ideal for quick and easy installation on-site. The parts can be pre-cut to length and delivered to you on site the next day, reducing installation time.
Key Clamp Handrails are the perfect choice if you're looking for a high-quality, durable, and easy-to-install handrail solution.
The Traditional Prefabricated Handrails
When we think about more traditional handrails, prefabricated wrought Iron often comes to mind. But what has made these handrails last the test of time?
Artistry and Aesthetics
Traditional Prefabricated Handrails offer a classic appeal that effortlessly blends with the decor of any premises, be it vintage or modern. The artistry and craftsmanship on these handrails provide a touch of elegance that's hard to overlook.
Sturdiness and Stability
Crafted from robust materials such as wrought iron, these handrails provide a reassuring sense of sturdiness. These robust materials ensure stability even under significant weight and strain.
Quality Assurance
One significant advantage with prefabricated handrails is quality assurance. These handrails are professionally crafted and inspected, ensuring you receive a product that meets stringent safety and quality standards.
Key Clamp Handrails v Traditional Prefabricated Handrails: The Showdown
Now that we've seen the strengths of both, let's compare them head-to-head.
| | | |
| --- | --- | --- |
| | Key Clamp Handrails | Prefabricated Handrails |
| Installation | Easy installation with (this doesnt make sense) | Requires specialist manufacturing and installation |
| Durability | Excellent due to galvanised steel and powder coating | Depending on the material used, can require maintenance |
| Customizability | High with versatile configurations and colours | Limited, predetermined designs |
| Aesthetics | Modern and minimalist | Classically beautiful |
| Cost | Generally more affordable | Can be pricier due to craftsmanship |
Where Key Clamp Handrails Out Perform Traditional Handrails.
It is easy to see why traditional handrails still have a place in the modern world. But there are some reasons why Key Clamp is often the best choice for public spaces. 
Cost
A key clamp handrail is often much less expensive than traditional handrails. This can greatly affect budgets when the total amount of handrails around a site is totalled up. 
This is the same for maintenance. If a section of the handrail is damaged, a new section of the key clamp handrail can be ordered; for traditional handrails, this could mean the whole handrail needs replacing. 
Variety
There is a huge amount of variety that comes with key clamp handrails. We have previously spoken about the customisable options available in accessories and colours, but there is so much more. 
A Wider Use Case
Key clamp handrails can come in a number of different designs and materials. As mentioned previously, we have galvanised steel, but we also have Glass Reinforced Plastic (GRP) for specialist use in industrial sectors. There are also Disability Discrimination Act (DDA) handrails that are required for access to commercial and public property. 
Key Clamp handrails can be used for more than just handrails. They are also great for creating room dividers or shelving, especially for those who prefer an industrial look for their office space.
Speak to the UK's Leading Key Clamp Suppliers
As the UK's leading supplier of key clamp handrails, we at Ezi Klamp have the knowledge and experience you need to complete your project. Our warehouse stocks a range of key clamp handrails and can deliver across the UK in as little as 24 hours.
If you need advice or would like to make a purchase, call us on 0117 970 2420 or email us at sales@eziklampsystems.co, and one of our friendly advisors will be happy to help. 
Related Product Categories