Key Clamp Handrails v GRP Handrails: Make the Right Choice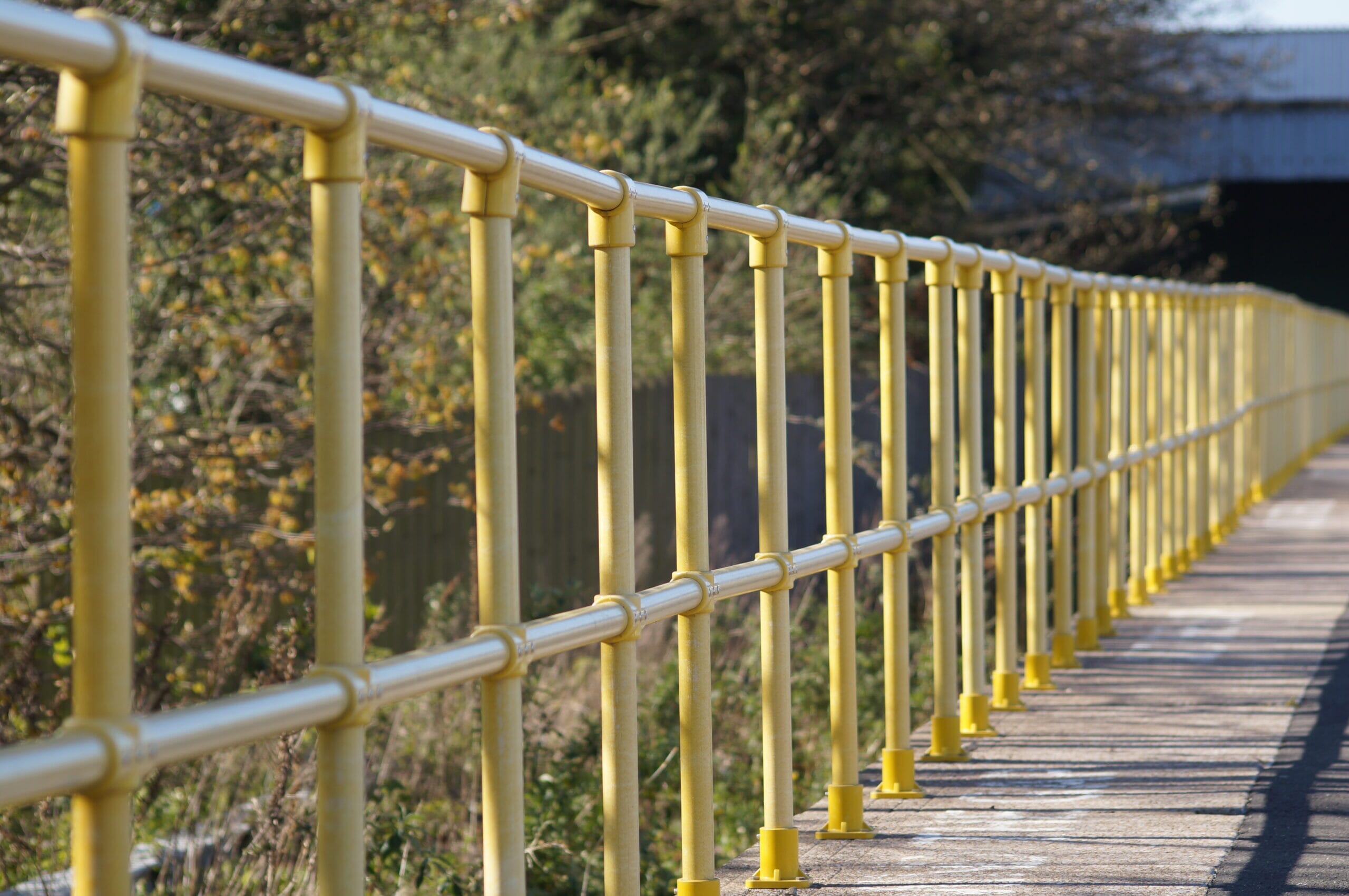 Handrails play a part in our day-to-day life, providing safety in our workplaces, schools, and many public spaces. Today, we will look at two prevailing handrail types, Key Clamp Handrails and GRP (Glass Reinforced Plastic) Handrails, and see which one suits your needs best.
Key Clamp Handrails
Key Clamp Handrails have recently grown increasingly popular for their contemporary appeal. At Ezi Klamp, we have supplied and fitted thousands of handrails across a number of sectors, from schools, railways, and retail parks to retirement homes, such as  Meadow Court Retirement Home. It is easy to understand why Key Clamp handrails are the first choice for most projects when you know their benefits:
Ease of Installation: Key Clamp Handrails come with pre-sized tubes and fittings, reducing the time and cost of specialist installation.
Durability: Made from galvanised steel, Key Clamp Handrails are exceptionally robust, resistant to corrosive environments, and can withstand heavy usage.
Customisability: These handrails are highly customisable, allowing for the perfect configuration for your space in terms of length, height, style, and powder coating colour.
Cost-Effective: Key Clamp Handrails are typically more affordable, especially when considering the cost of maintenance and potential replacement.
GRP Handrails
GRP Handrails are revered for their unique qualities and benefits. Here's why they have been an essential part of many premises, from Porthmadog Viaduct in Wales to the Olveston landfill site in Bristol:
Non-Conductive: GRP Handrails are non-conductive, making them a safe choice for environments with a risk of electrical contact, such as the energy sector.
Corrosion Resistant: GRP Handrails are highly resistant to corrosion and ideal for chemically aggressive or saline environments.
Lightweight Yet Strong: Despite being lighter than steel, GRP handrails are robust and can hold up against significant weight and strain.
Zero Maintenance: Unlike other materials requiring regular upkeep, GRP Handrails require little to no maintenance, saving long-term costs.
Lower Chance of Theft: Thieves are less likely to target GRP handrails due to their plastic construction. This makes it the best choice for situations where it will be isolated, such as along railway lines.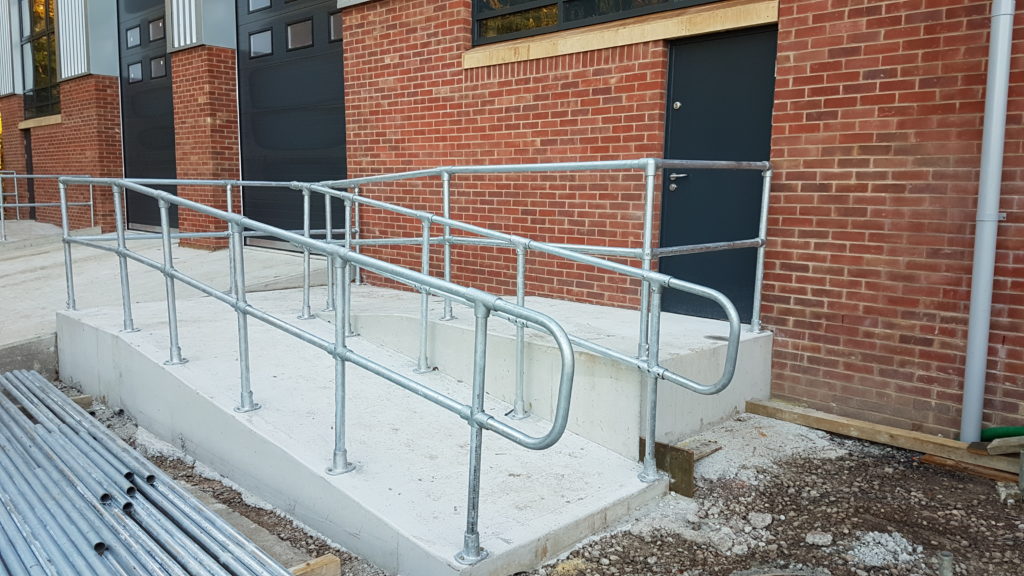 Key Clamp Handrails v GRP Handrails: The Head-to-Head 
To better understand the strengths, let's compare them directly.
| | | |
| --- | --- | --- |
| | Key Clamp Handrails | GRP Handrails |
| Installation | Quick and easy installation | Quick and easy installation |
| Durability | Excellent due to galvanised steel | Highly Durable thanks to their plastic construction |
| Customizability | High versatility in terms of configurations and colours | Limited to certain colours and styles |
| Electrical Safety | Conducts electricity | Non-conductive |
| Corrosion Resistance | Resistant to corrosive environments | Highly resistant to corrosive and chemically aggressive environments |
| Weight | Heavier than GRP | Extremely Lightweight |
| Maintenance | Can require minimal maintenance | Almost zero maintenance is required |
| Use Cases | Public places such as schools and entryways  | Power stations, manufacturing plants, railway sites, water treatment centres, marine vessels, offshore wind and oil facilities, |
Why Choose Key Clamp Handrails Over GRP Handrails?
While GRP handrails offer numerous advantages, there are instances where Key Clamp Handrails outperform them.
Versatility: Key Clamp Handrails provide more versatility in terms of customisation, with many more accessories and fittings than are available for GRP handrails.
Cost: Key Clamp handrails are cheaper than their GRP counterparts. 
Customisability: We can provide Key Clamp handrails that are powder coated, allowing you to choose from an almost unlimited colour pallet. GRP handrails come in two standard colours, Yellow and Grey and cannot be customised due to the nature of their manufacturing. 
Why Choose GRP Handrails Over Key Clamp Handrails?
There are equally valid reasons to choose GRP Handrails over Key Clamp Handrails, such as:
Electrical Safety: If you're working in an environment with a risk of electrical contact, e.g. on electrified railway lines, power stations, etc. Our GRP handrails offer a safer alternative due to their non-conductive properties
Corrosion Resistance: GRP Handrails offer superior corrosion resistance for chemically aggressive or saline environments.
Lightness: GRP handrails provide unparalleled lightness compared to traditional Key Clamp handrails. This makes them easier to handle and fit. This is key when working in potentially dangerous situations. 
Talk to the Leading Handrail Suppliers in the UK
As the UK's premier supplier of Key Clamp and GRP handrails, we at Ezi Klamp have the expertise needed to guide you through your project. Our warehouse stocks a wide range of handrails and can provide delivery across the UK within 48 hours.
If you need advice or wish to make a purchase, contact us on 0117 970 2420 or email us at sales@eziklampsystems.co.uk, and one of our friendly advisors will be glad to assist.
Related Product Categories