A Guide To Roof Guardrail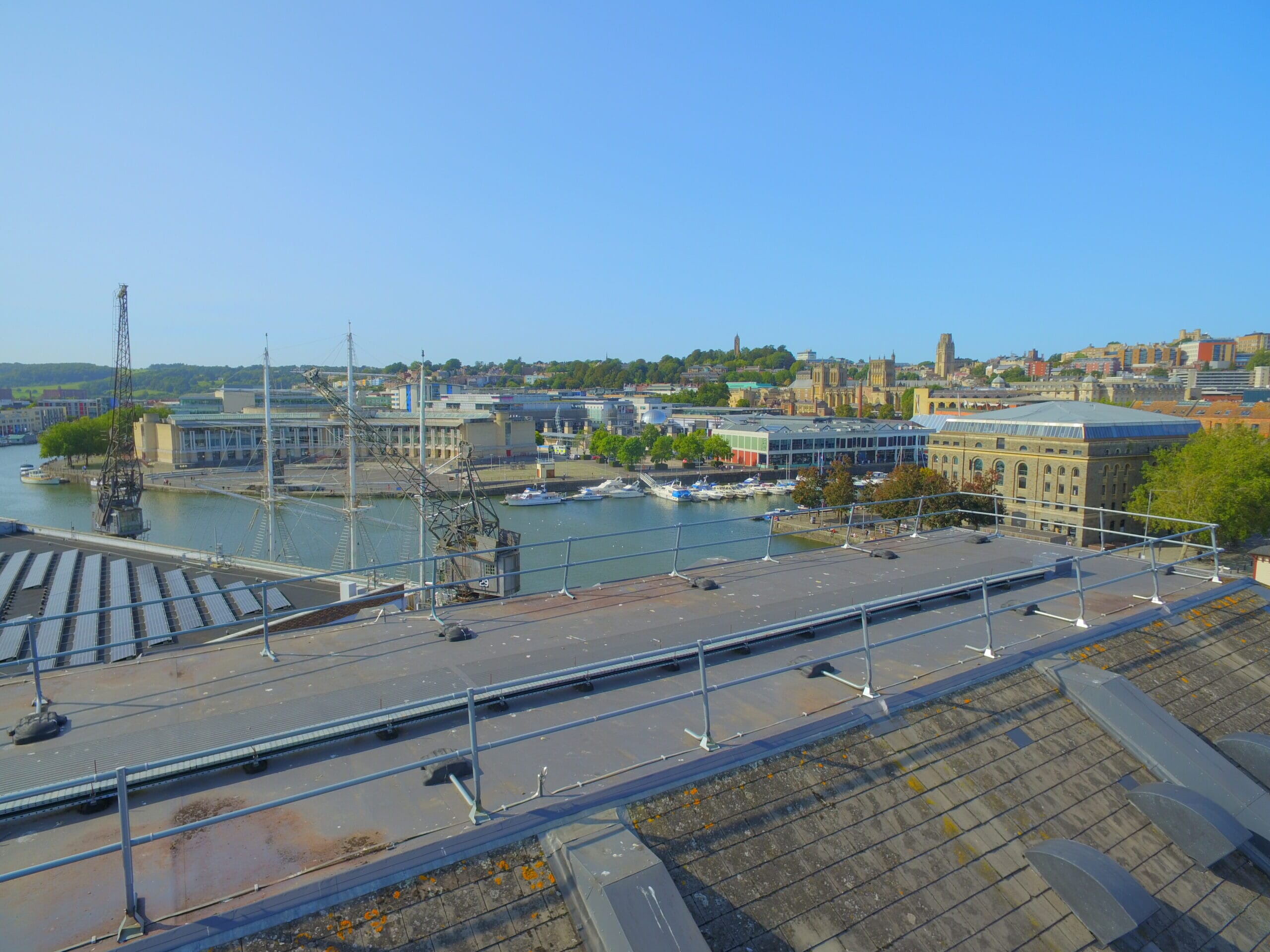 A Guide To Roof Guardrail
One of Ezi Klamp's most popular products is our roof edge guardrail system – and for good reason. Here's a guide to the no-hassle cantilever system that makes our roof guardrail the choice of industries across the UK.
Who uses Ezi Klamp roof guardrail?
Cast your eyes upwards at work sites across the UK and you'll find Ezi Klamp's roof edge guardrail system doing its job. From nurseries to offices, the settings might change, but the objective is always the same: to keep maintenance staff, inspectors and workers safe, while giving site managers peace of mind.
Of course, there are other roof guardrail systems for sale in the UK. But for easy ordering, simple installation, unbeatable stability and long-term reliability in all weather conditions, you won't find a better roof guardrail than ours.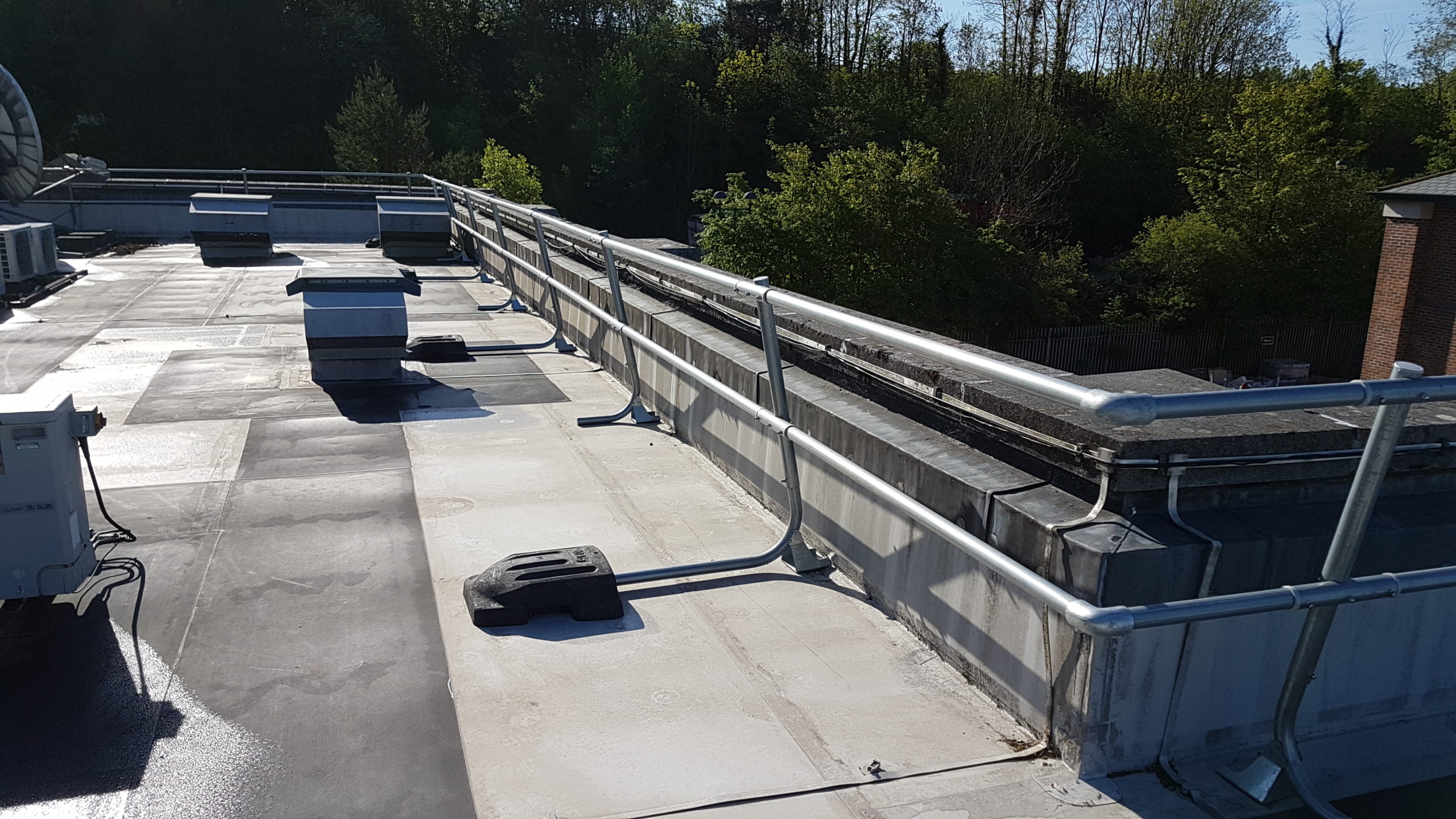 How does Ezi Klamp's roof edge guardrail system work?
When you take delivery of your Ezi Klamp roof guardrail, the first thing to strike you is the simplicity. Unlike rival systems, our setup works on a straightforward yet highly effective cantilever principle, with 'legs' that extend onto the roof space, creating optimal balance and ensuring huge strength and stability.
Accidents are inevitable in the workplace, whether that's a staff member tripping and clinging to the barrier or heavy equipment falling against it. But in every scenario, our roof guardrail always stays rock solid, protecting your staff, property and equipment.
What are the other benefits of Ezi Klamp roof guardrail?
That renowned strength and stability aren't the only reasons why British industry chooses Ezi Klamp roof guardrail. That same cantilever principle means there's no need to penetrate the roof membrane with mechanical fixings. This not only removes the risk of damage or leaks, it also saves you the cost of a specialist fitter and lets your day-to-day operations continue without disturbance.
Plus, with Ezi Klamp roof guardrail, you can wave goodbye to onsite welders: no experience is needed to clamp together the 48mm-diameter steel tubes using stainless steel set screws. Once it's up, our roof guardrail stays up, thanks to a galvanised steel finish that handles every extreme of the British weather.
Where can I find roof guardrail systems for sale?
Right here at Ezi Klamp. From our dedicated factory in Bristol, we've supplied roof guardrail to British industry's most respected companies for more than two decades – and we're ready to take on your next project.
Trust us to take your initial phone enquiry, design a roof guardrail solution from your plans, photos or sketches, source all the components you need and quote you fast. Then sit back and wait for the fastest delivery around – just one more reason why our can-do service gets 9.4/10 positive feedback from our satisfied customers.
Our roof edge guardrail system is in stock now and ready to order. Drop us a line on 0117 970 2420 or sales@eziklampsystems.com and discover the Ezi Klamp difference.
Related Product Categories
First Published:
14/06/2021
(Updated

23/11/2021

)